Regular price
$316.00 USD
Regular price
$354.00 USD
Sale price
$316.00 USD
Unit price
per
Sale
Sold out
Share
View full details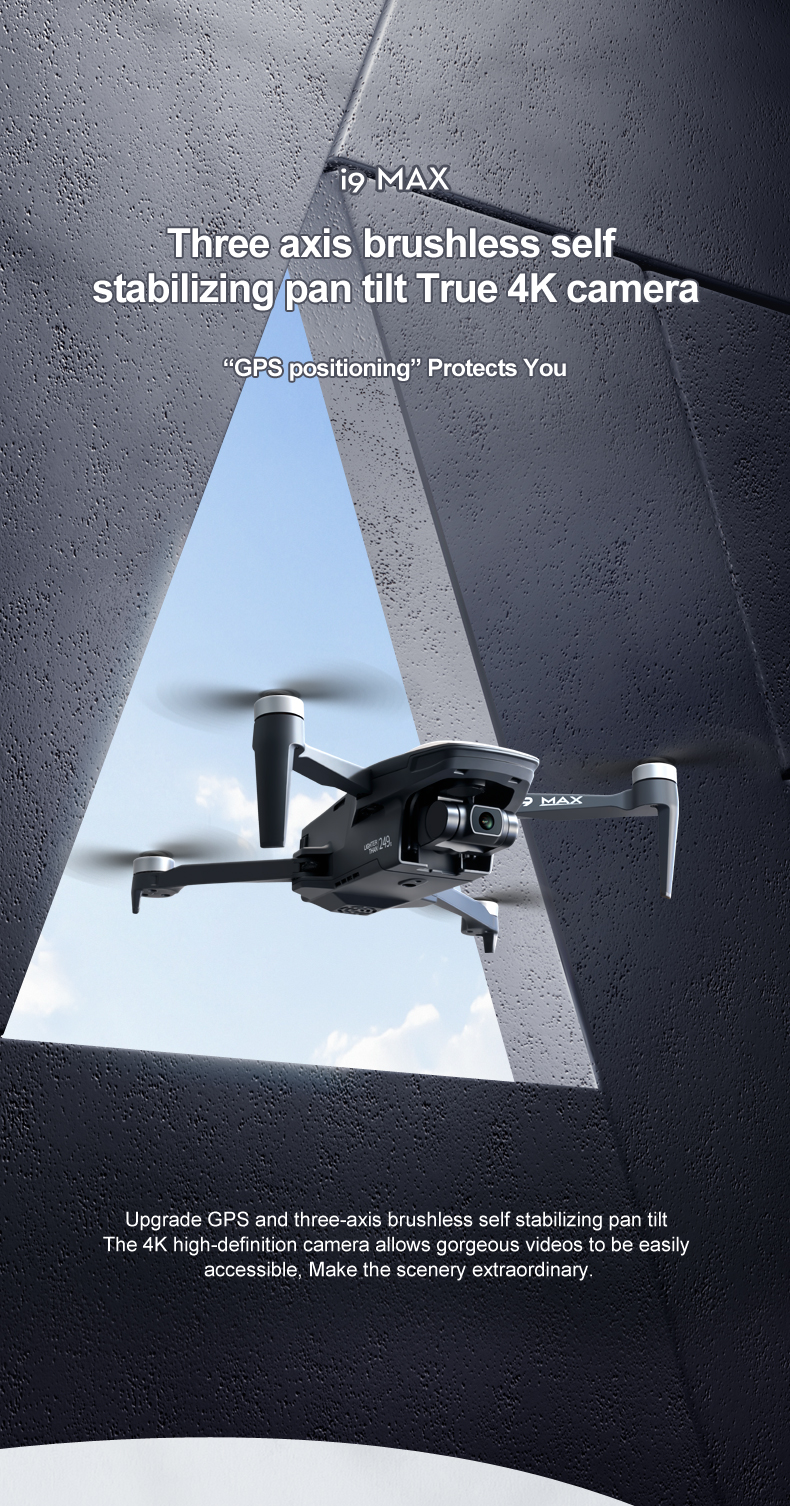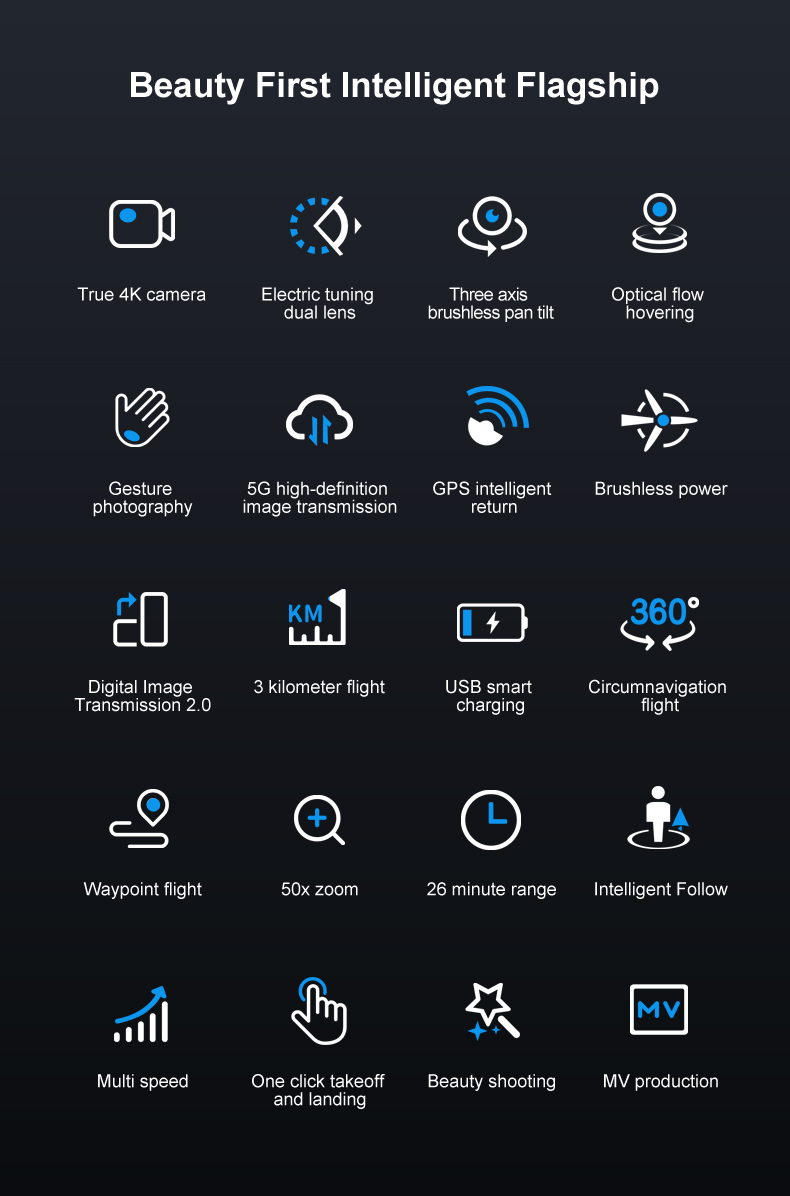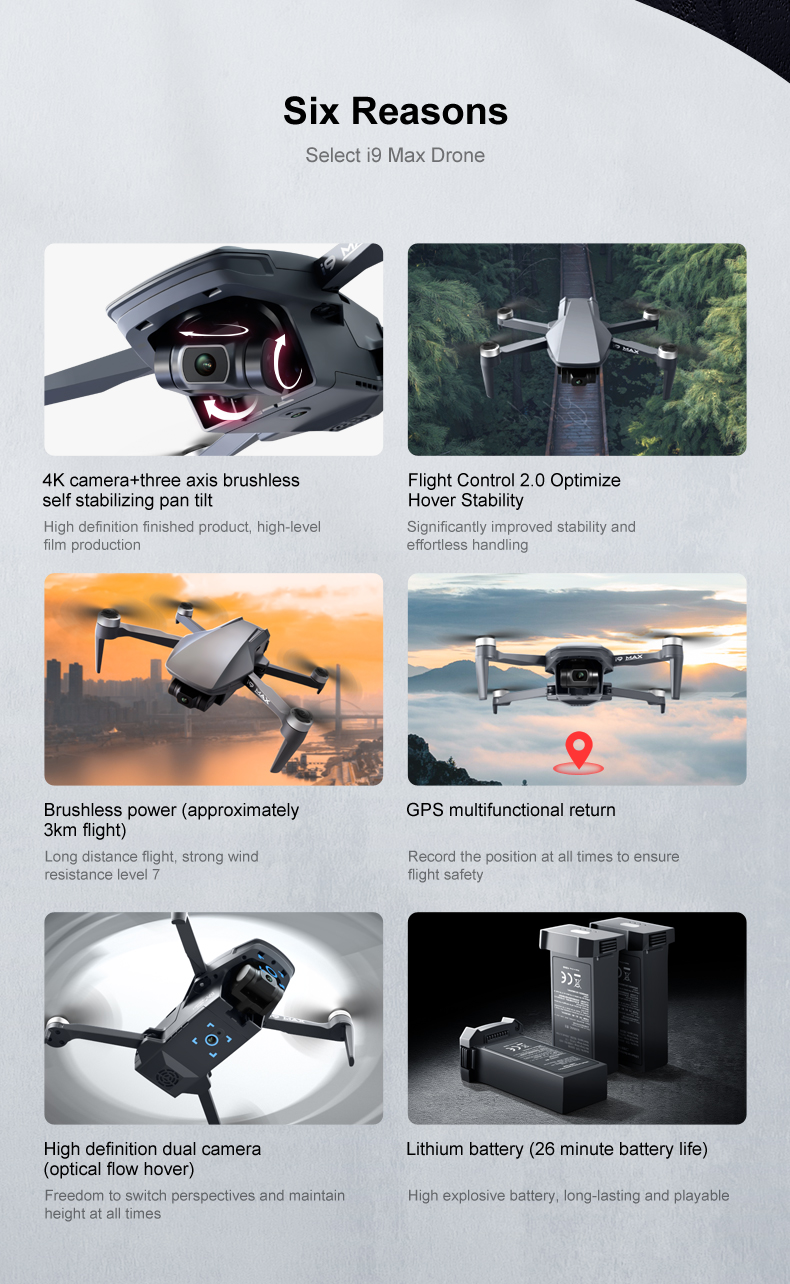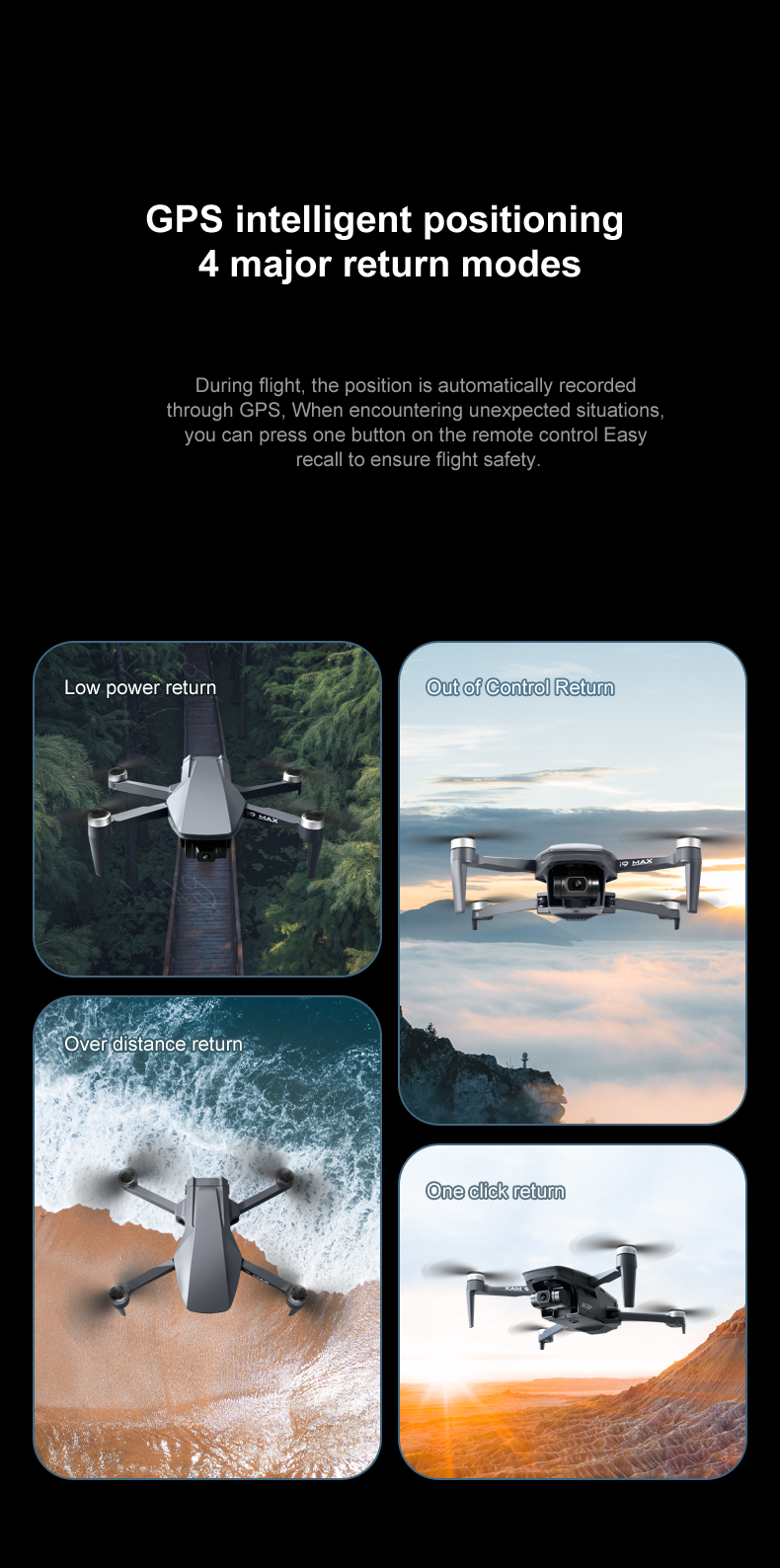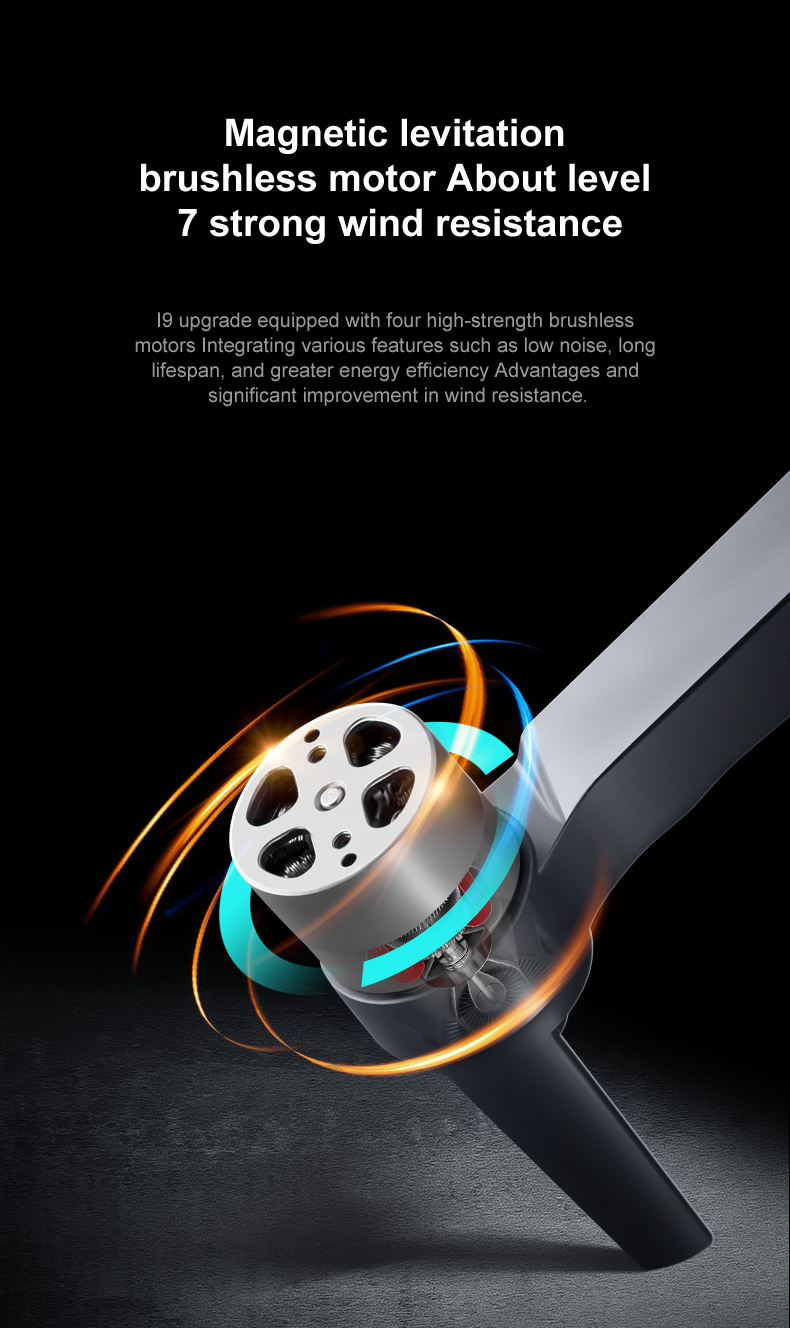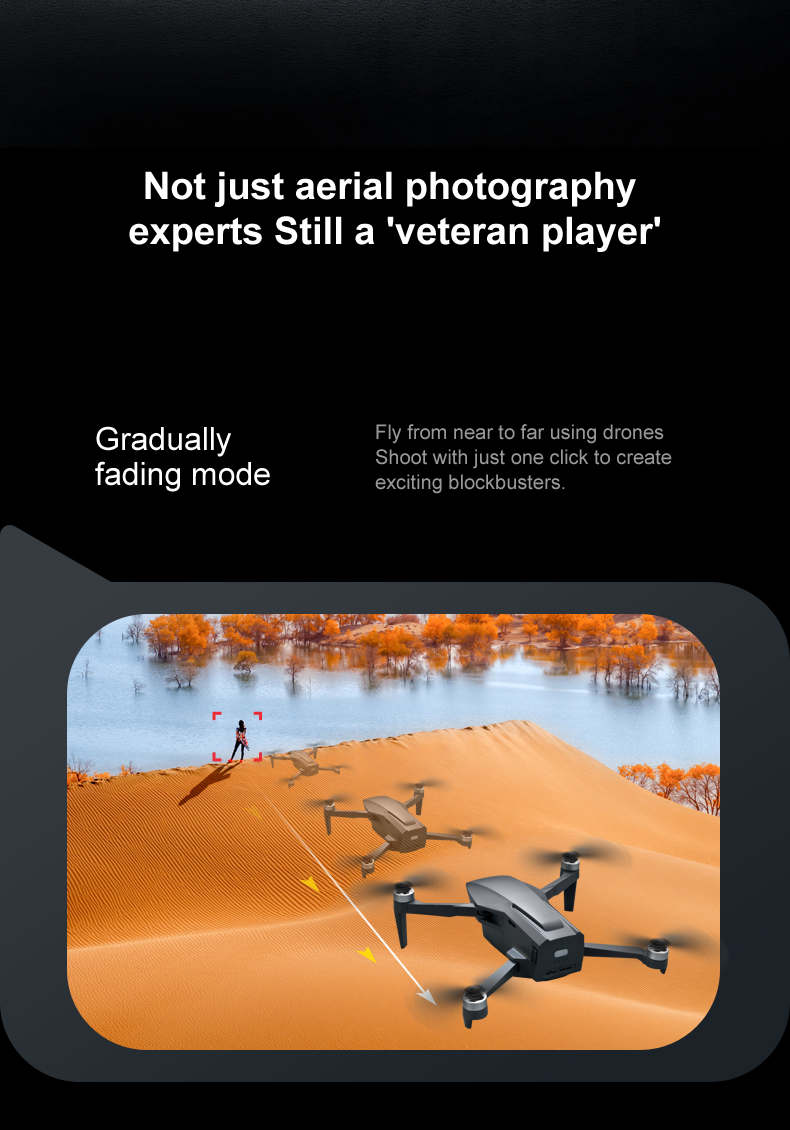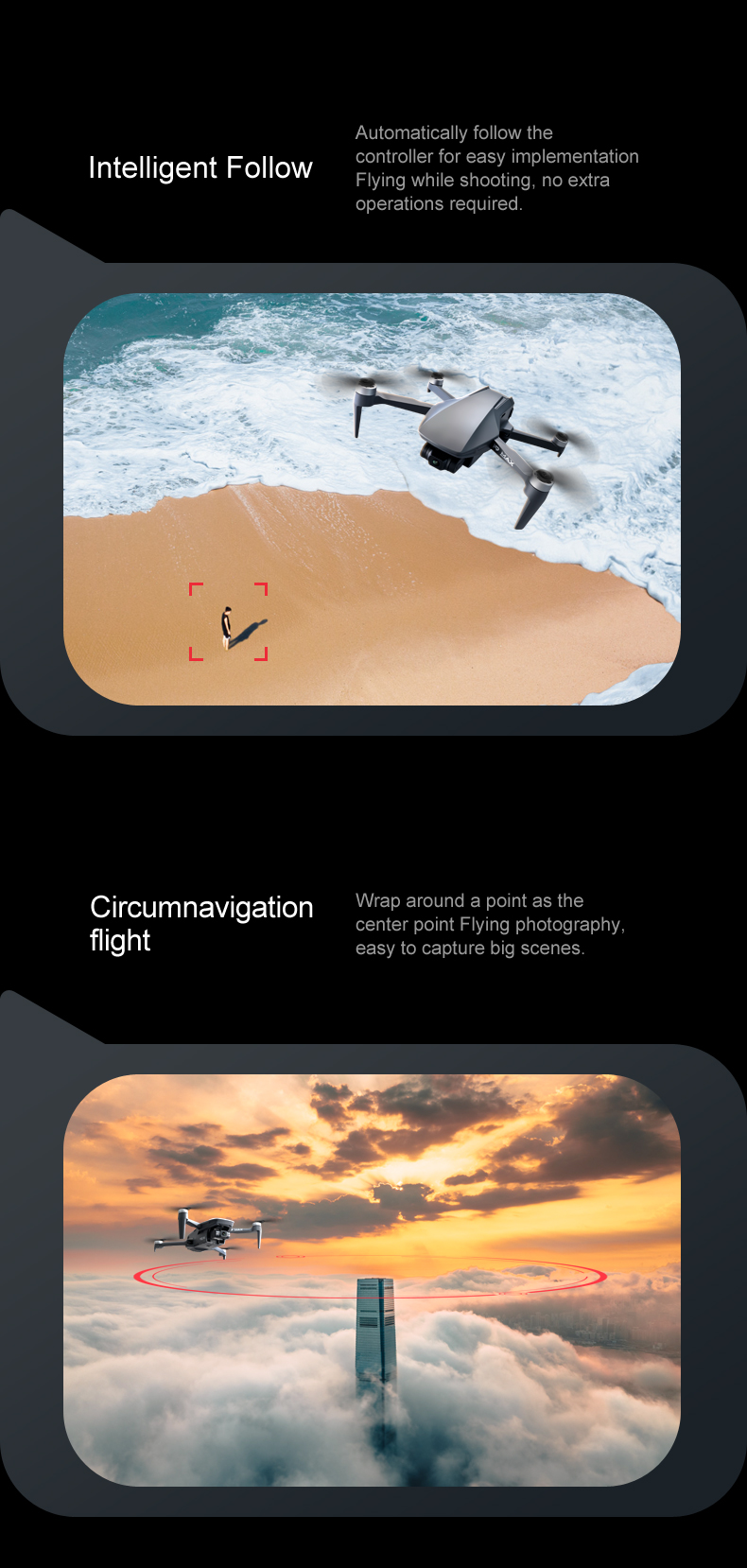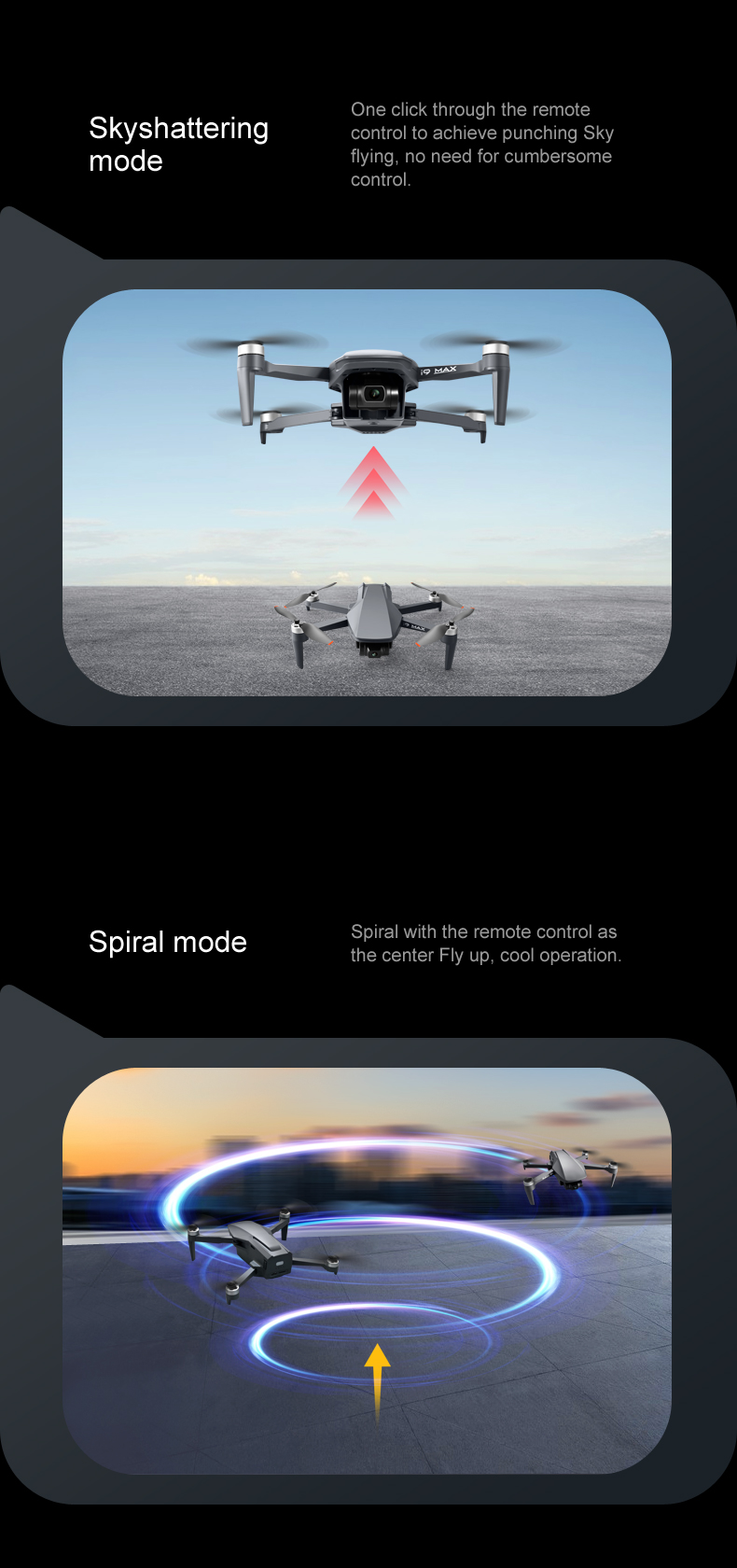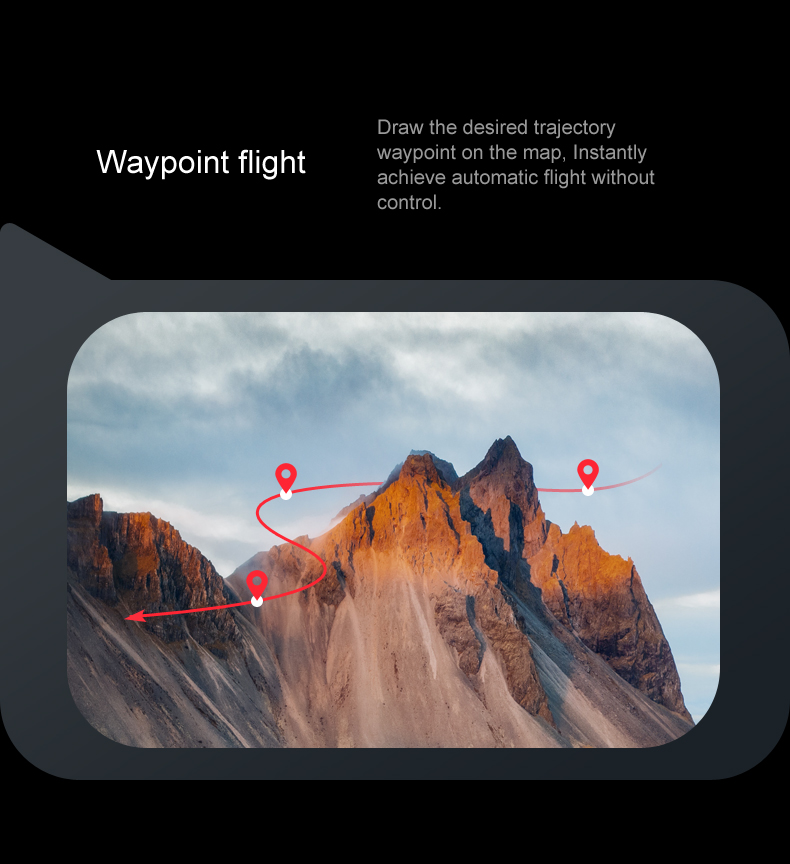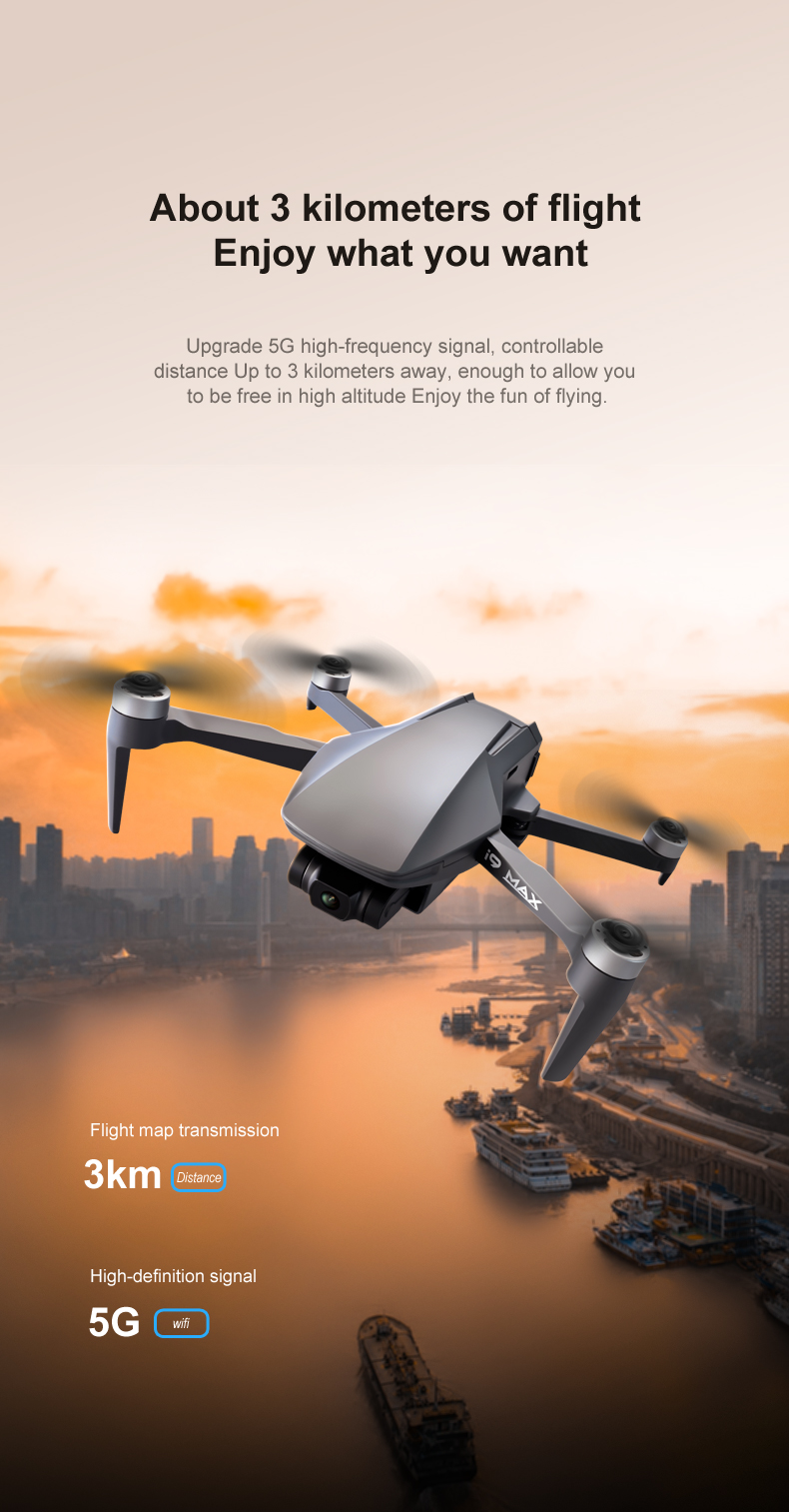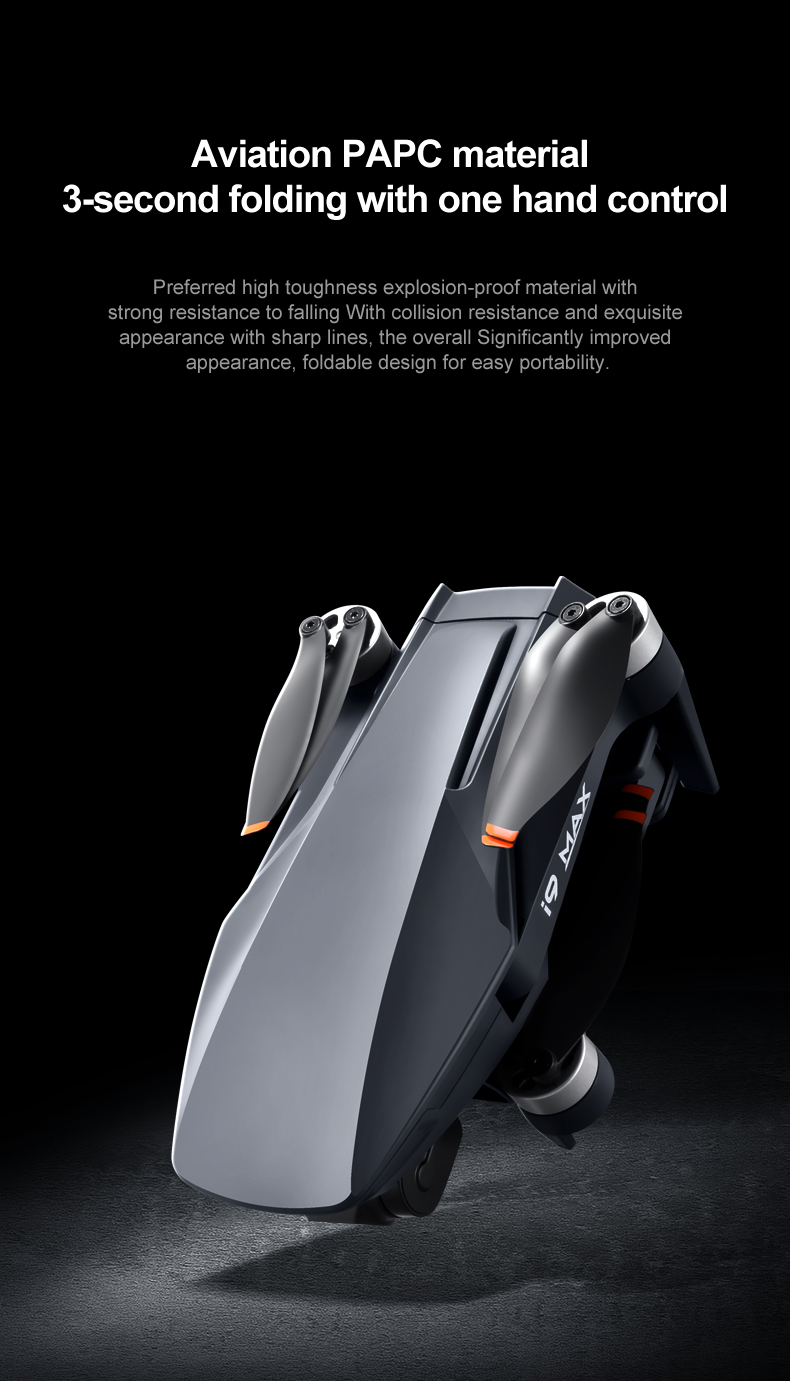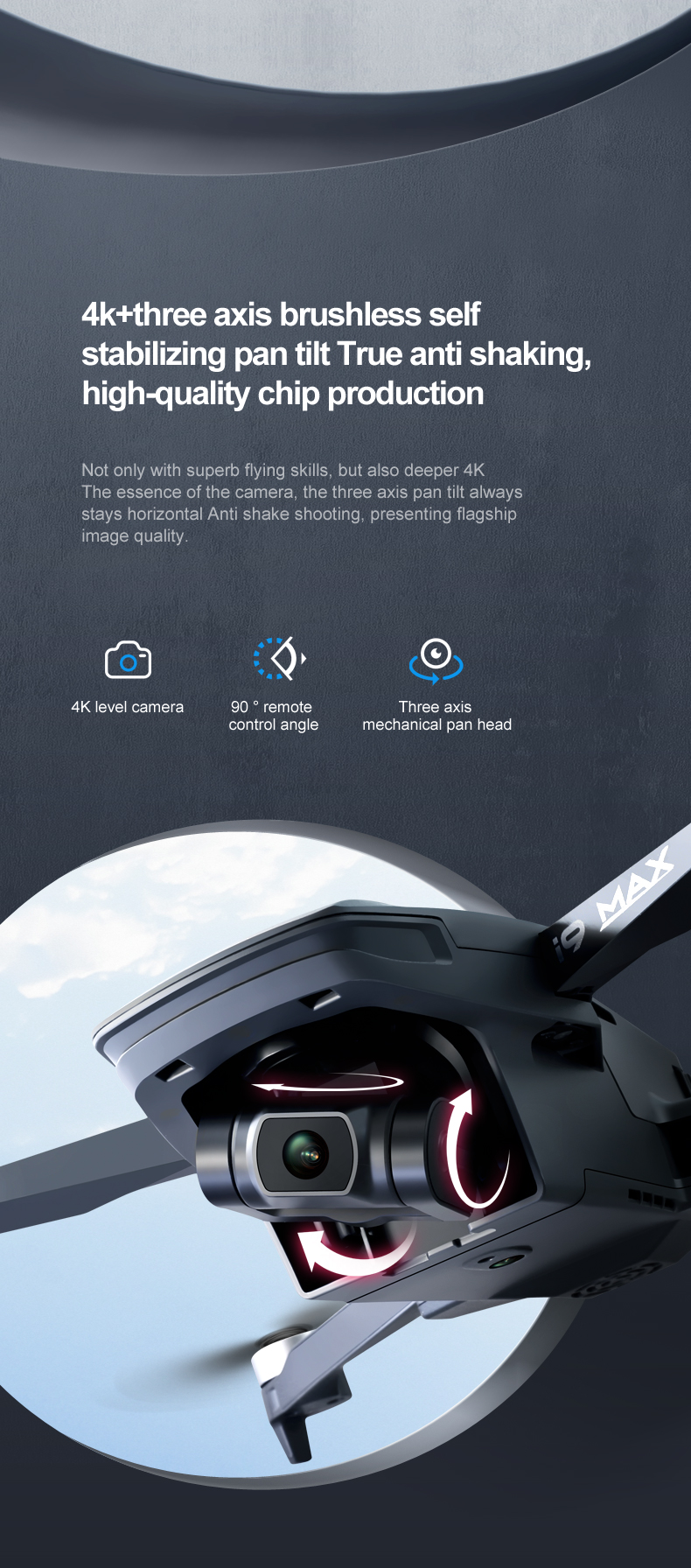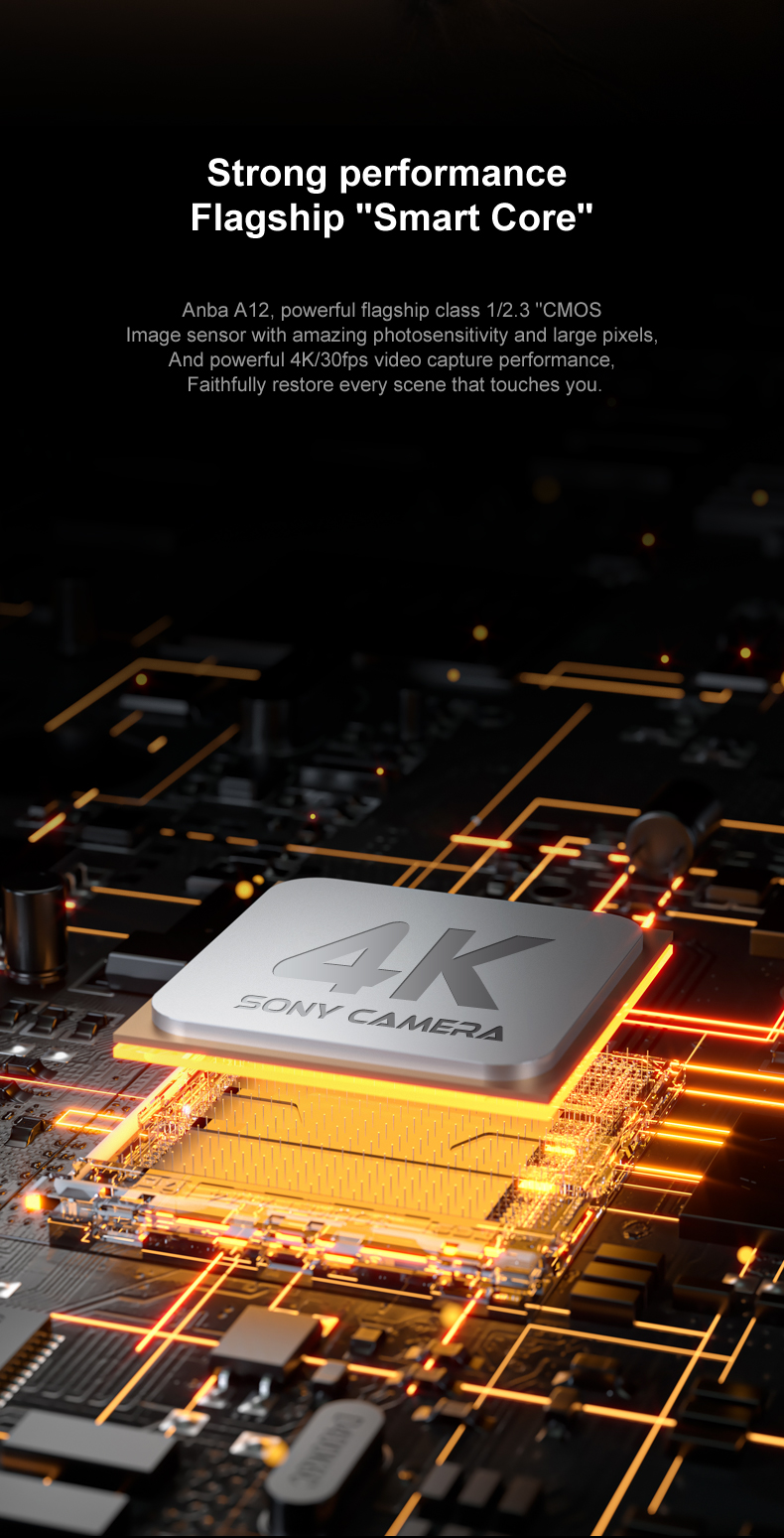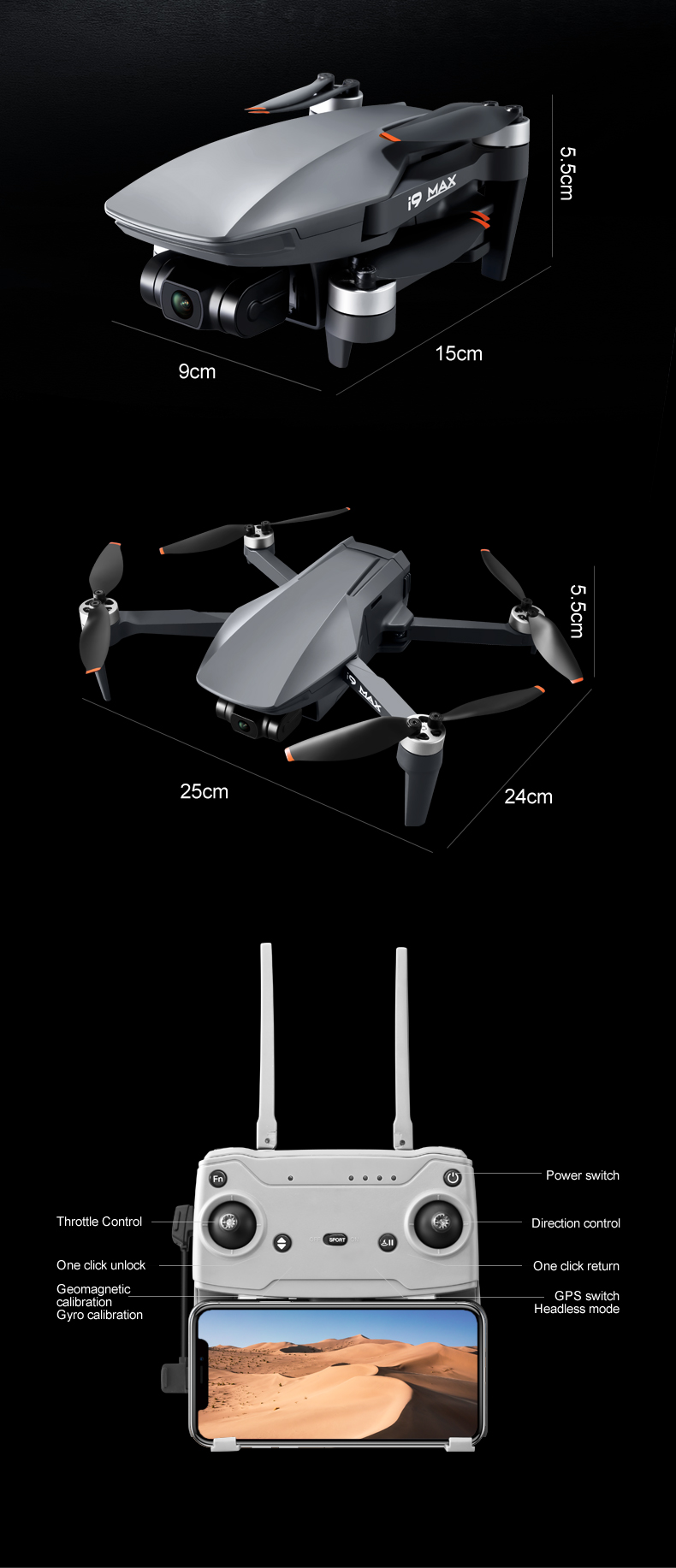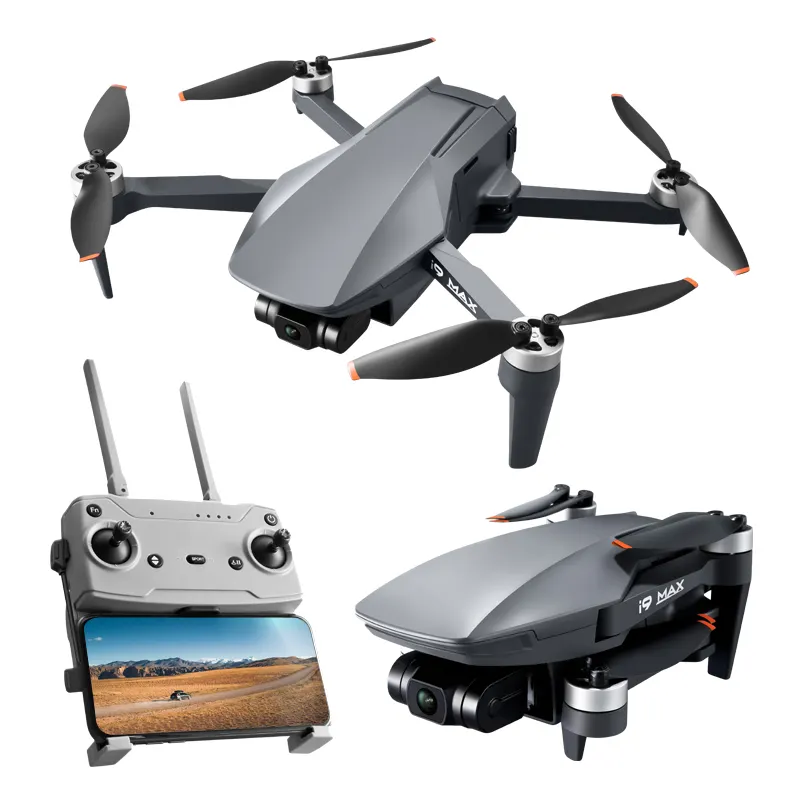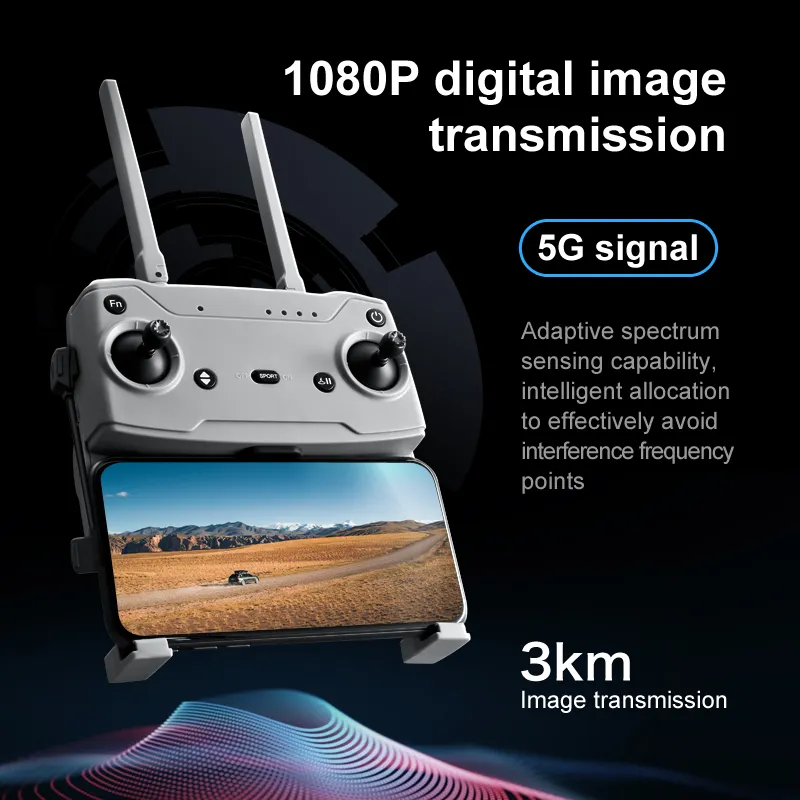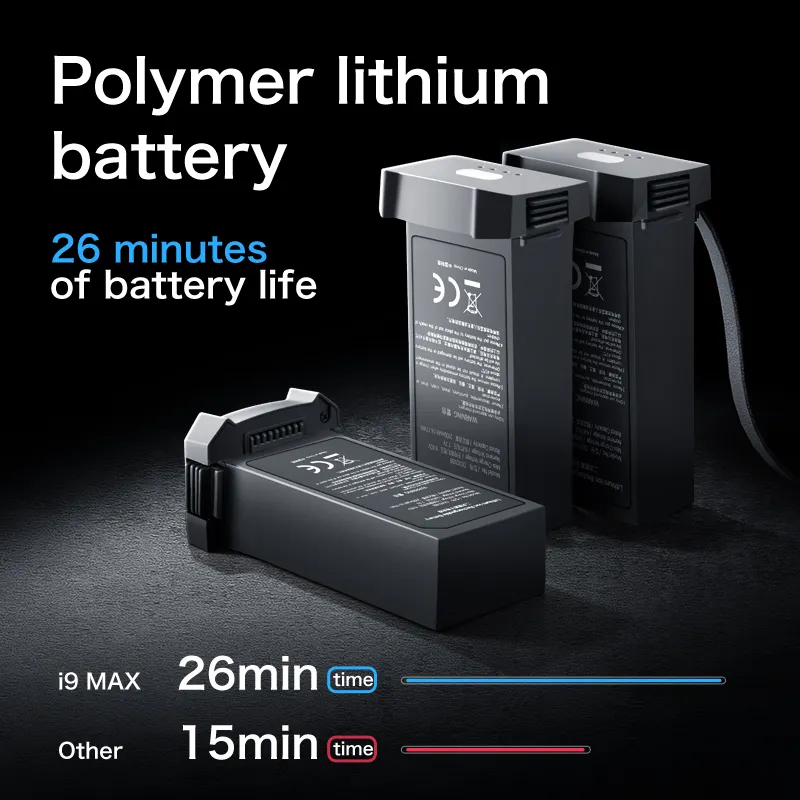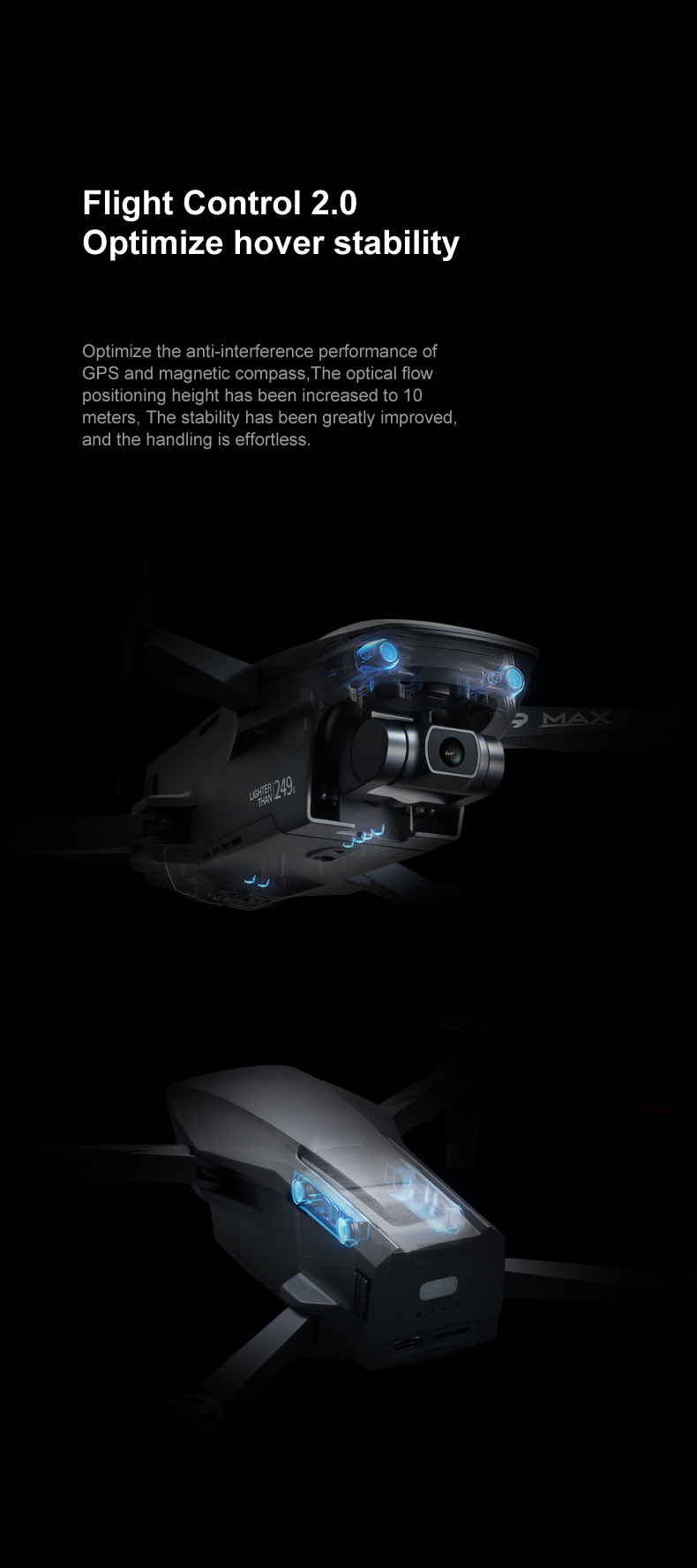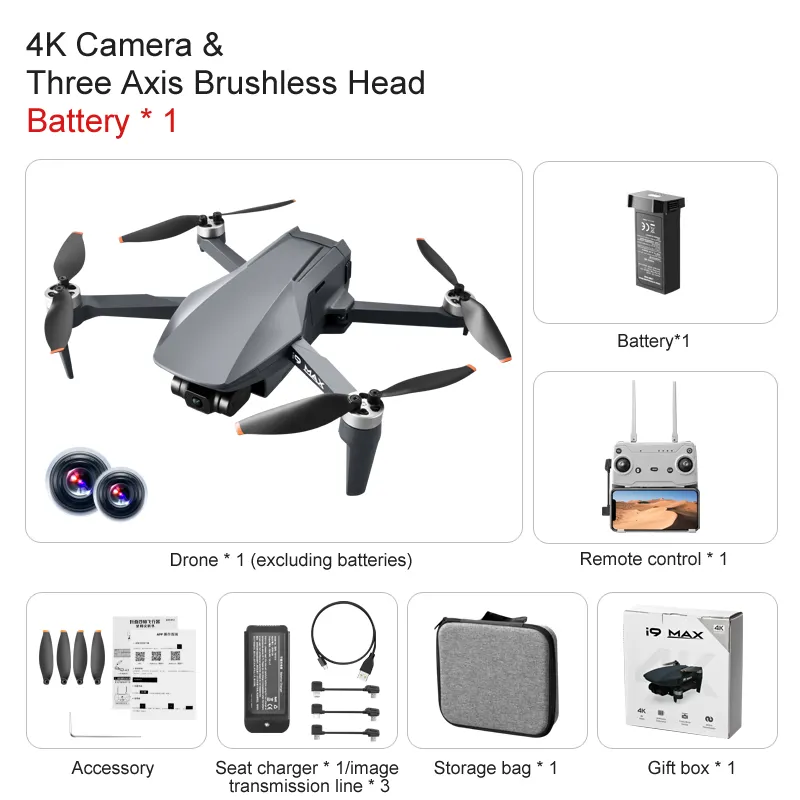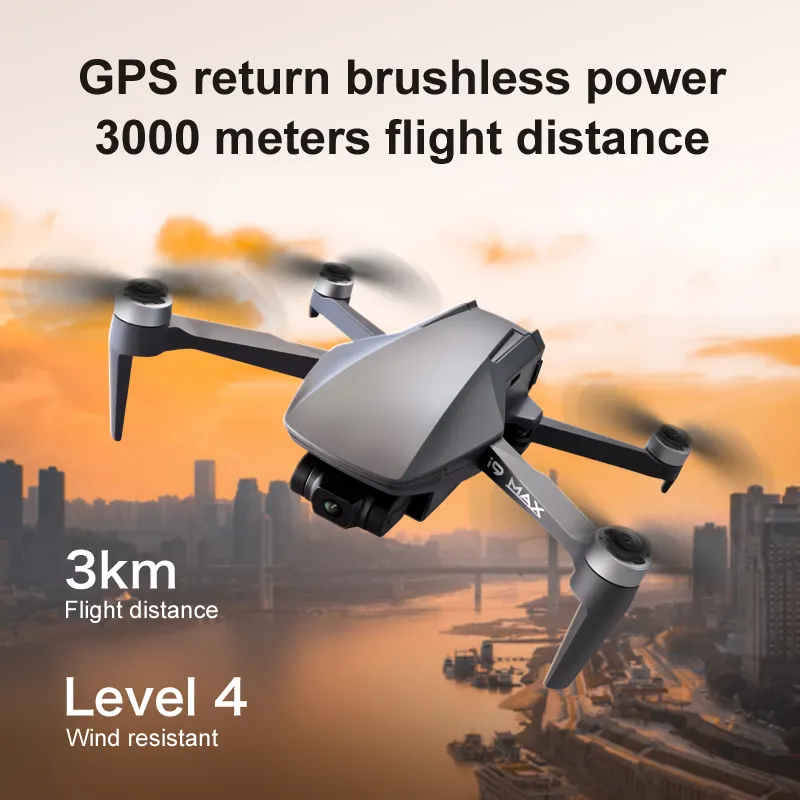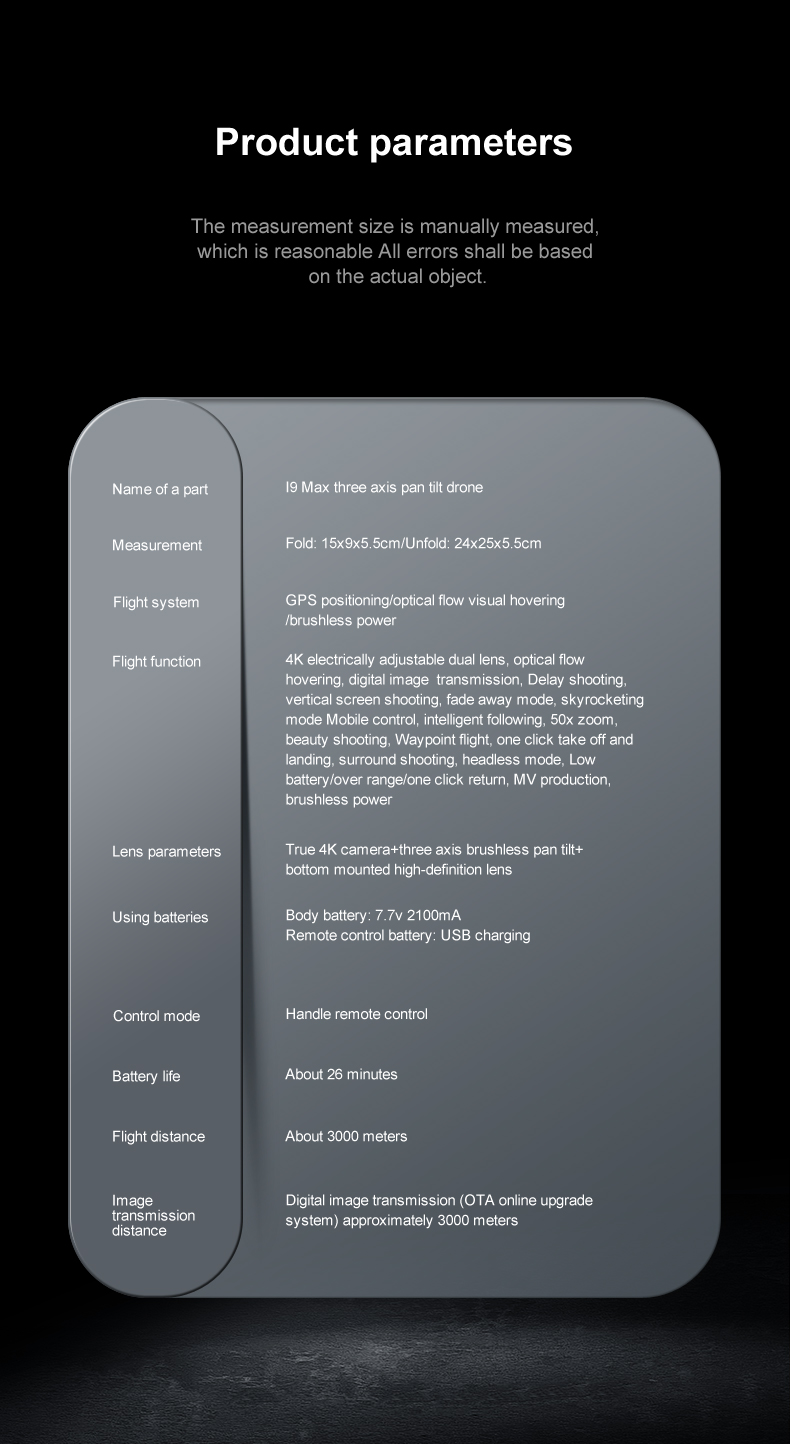 The i9 Max Mini Drone is the next step up in advanced, remote control flight. With a foldable design and a weight of just 249 grams, you can take the i9 Max Mini Drone with you wherever you go. Whether you want to take it on a hike in the mountains or just enjoy flying your drone around your local neighborhood, the i9 Max Mini Drone is designed to be portable and functional at all times, regardless of the environment, temperature, or weather.
Compact, durable and convenient, this drone is your ideal travel companion, transforming how you capture your favorite memories. The i9 Max Mini Drone camera takes power and portability to the next level. Equipped with 8MP camera that can record ultra sharp 4K UHD video. Push your imagination to its limits because aerial photography has never been this easy.
✅Video From i9 Max
✅Light Weight & Portable
Weighing less than 249 grams, the i9 Max Mini Drone weighs about as much as an orange and fits almost anywhere, meeting the weight requirements of most countries and regions for drones. It can also be easily packed into backpack after folding, from the side pocket of your hiking pack to the palm of your hand.
✅Strong Battery Life
i9 Max Mini Drone comes with rechargeable 2100 mAh Li-Po Battery. A single battery charge can bring 27 minutes of flight time, longer than most consumer drones of the same type. 
The built-in intelligent flight battery will keep your drone in the air for up to 25 minutes at a time, with virtually no risk of fall damage. As soon as your i9 Max Mini Drone detects that the battery levels are running low, it will begin to descend to a safe height. You will also be alerted of the battery's remaining life via the LED display.
✅Flight Range

The ISPEKTRUM i9 Max Mini Drone is equipped with a powerful and reliable image transmission system that allows you to fly the drone farther while maintaining crisp and clear visuals. With an impressive transmission range of 3 kilometers (3 KM), you can explore a wider area and capture stunning aerial footage without compromising on image quality.

The strong image transmission system of the i9 Max Mini Drone ensures that the live video feed from the drone's camera is transmitted seamlessly to your remote control or mobile device. This allows you to monitor the drone's flight in real-time and have a clear view of the surroundings, even when the drone is flying at a considerable distance from your location.


By extending the transmission range to 3 kilometers, the i9 Max Mini Drone offers an enhanced flying experience, giving you the freedom to explore and capture footage from greater distances. Whether you're capturing breathtaking landscapes, surveying a large area, or simply enjoying the thrill of flying, the extended transmission range ensures that you can maintain a strong connection and have a clear visual understanding of the drone's flight path and surroundings.


With the i9 Max Mini Drone's powerful image transmission system and impressive 3-kilometer range, you can confidently push the boundaries of your aerial exploration and capture stunning visuals from extended distances. Experience the joy of flying while enjoying a reliable and uninterrupted connection between the drone and your control device, allowing you to capture every moment with clarity and precision.
✅4K Camera
i9 Max Mini Drone is equipped with a 8MP camera that can record 4K ultra HD video. Paired with a three-axis mechanical gimbal to prevent vibration, the i9 Max Mini Drone provides everything you need to ensure your footage is smooth and stable no matter how rough the conditions. 
True 4K Movie Level Pixels Camera: The drone features a camera capable of recording videos at true 4K resolution, providing high-quality and highly detailed footage.

Low Light Performance with Small Noise Suppression: The camera's sensor is designed to perform well in low-light conditions, reducing noise and maintaining image clarity in challenging lighting situations.

Image Analysis: The drone incorporates advanced image analysis capabilities, which may include features like object tracking, subject recognition, or intelligent scene optimization.

Strong Capability and Higher Dynamic Range: The camera has robust capabilities, including a higher dynamic range, allowing it to capture a wide range of brightness levels, preserving details in both shadows and highlights.

120 Degree Wide Angle and 4 Times Digital Zoom: The camera has a wide field of view, capturing a broader scene, and it can digitally zoom in up to 4 times to get closer shots.

8MP Camera Recording 4K Ultra HD Video: The drone is equipped with an 8MP camera capable of recording videos in 4K ultra HD resolution, ensuring high-quality video footage.

3-Axis Mechanical Gimbal: The drone is paired with a three-axis mechanical gimbal, which stabilizes the camera and reduces vibration during flight, resulting in smooth and stable footage, even in turbulent conditions.
A 4K camera in the sky delivers content guaranteed to impress. i9 Max Mini Drone ensures stunning image quality that is consistently smooth no matter how adventurous your piloting gets. Excellent optical performance can record every unforgettable moment in life.
Sony 4K Camera and Anba A12 CMOS Image Sensor:

The i9 Max Drone is equipped with a Sony 4K camera and an "Anba A12" CMOS image sensor, described as a powerful flagship class 1/2.3" sensor with amazing photosensitivity and large pixels, capable of capturing powerful 4K/30fps video.
✅3-Axis Gimbal

Both the i9 Max Mini Drone and DJI drones feature a 3-axis gimbal, which is indeed a crucial component for capturing excellent photos and recording smooth, high-quality videos. The 3-axis gimbal plays a vital role in stabilizing the camera during flight, compensating for any movements or vibrations caused by the drone's motion or external factors such as wind.


By providing stability and reducing unwanted shaking or vibrations, the 3-axis gimbal ensures that the camera remains steady, allowing you to capture clear, professional-looking footage. Whether you're maneuvering the drone through tight spaces or capturing fast-paced action shots, the gimbal helps maintain a smooth and level camera position, resulting in flawless videos and sharp images.

The 3-axis gimbal works by using built-in motors to counteract movements in three axes: pitch, roll, and yaw. This means that no matter how the drone moves or rotates, the gimbal actively adjusts the camera's position to keep it stable and level. As a result, the footage you capture is free from jitters, blurriness, or distortions, giving your videos a polished and professional appearance.

Having a 3-axis gimbal is considered a standard feature in high-quality camera drones, and it is essential for achieving the best possible stabilization and video quality. Whether you're using the i9 Max Mini Drone, Hubsan Zino Mini, Evo Nano or a DJI drone, the presence of a 3-axis gimbal ensures that your aerial photography and videography experience is enhanced, allowing you to capture stunning shots with ease and confidence.
✅Night Mode / Optical-Flow Night Light
i9 Max Mini Drone uses a deep algorithm of image denoising which optimizes your low-light shots.  Even if the lighting is not ideal, you can still see your surroundings thanks to the i9 Max Mini Drone optical-flow night light. Optical-flow night light ensures your hovering performance in low-light circumstances.
✅Smart Flight
The ISPEKTRUM i9 Max Mini Drone is equipped with a range of intelligent flight modes that enhance the overall flying experience and provide added convenience and safety. These intelligent flight modes include:

One Key Return: With the one key return feature, you can easily bring the drone back to its takeoff point with just a press of a button. This is especially useful when the drone is out of sight or when you want to ensure a safe and precise landing.

Low Battery Return: When the drone's battery reaches a low level, the low battery return feature automatically triggers the drone to return to its home point. This helps prevent the drone from running out of power mid-flight and ensures a safe return to the starting location.

Runaway Return: In the event of a lost connection between the drone and the controller, the runaway return feature automatically activates. This feature enables the drone to return to its home point, minimizing the risk of losing the drone and ensuring its safe recovery.


These intelligent flight modes provide convenience and peace of mind during your drone flights. They enhance the overall flight experience by simplifying the control process and minimizing potential risks. Whether you're a beginner or an experienced pilot, these features make flying the i9 Max Mini Drone safer and more user-friendly, allowing you to focus on capturing stunning footage and enjoying your aerial adventures.
✅Easy To Get Started
The i9 Max Mini Drone brings a simple and intuitive operating experience, making flying easier. There is more flight teaching, which is convenient for you to master flying skills more quickly. 
✅Easily Transfer Videos & Images:
Once you've finished flying for the day (or night), the i9 Max Mini Drone makes it easy to connect and upload the contents of your adventures to just about any device. It is compatible with both iOS and Android systems, which makes it easy to share and store files in a matter of minutes.  
✅Highlights
249gm Lightweight & Foldable Design
Up to 27 Minutes of Flight Time
3KM Remote Control Distance
3-Axis Gimbal with 4K UHD Video
Sony Image sensor
✅What's In The Box
1 x

 

i9 Max

 Mini Drone

 

249gm Lightweight & Foldable Drone
1 x Remote Controller
1 x Drone Battery
1 x Pair of Propellers
1 x Intelligent Charger
1 x Screwdriver
1 x Manual
✅Technical Specifications
✅Aircraft
Color Gray
Size (L x W )
Unfolding: 250*240mm
Folding : 140*60
Take off weight249 grams (Europe, America, China)

200 grams (Japan)
Maximum take-off altitude 3000 meters

Satellite navigation system GPS/GLONASS

Duration of flight 34 Minutes (Measured under normal temperature and no wind conditions)
✅Gimbal
Number of Axes 3 (Pitch, Roll, Yaw)
✅Intelligent Flight Battery
Chemistry Lithium-ion battery (LiPo)
Capacity 2100 mAh
Charging voltage limitation 7 .4V
Discharge limitation 8C
Charging time 90 minutes
Working temperature 0°C~ 40°C

Charging environment temperature 0°C~ 40°C
Smart battery balance Support
✅Specs 
i9 Max Mini






Item NO.: 

i9 Max Mini

Color: 

Grey

Dimension: 

Unfold:165 X 188 X 59 mm (L*W*H)
Fold:142 X 84 X 57 mm(L*W*H)

Diagonal Size: 

218 mm

Drone Weight: 

About 230g (with battery and propellers)

Max  Ascending Speed: 

4m/s (Sport Mode)

2.5m/s (Normal Mode, can set from 1~3m/s)

3.5m/s (Return Mode)

Max  Descending Speed: 

3m/s (Sport Mode)

2m/s (Normal Mode, can set from 1~3m/s)

3m/s (Return Mode)

Max Horizontal Flight Speed:

14m/s (Sport Mode)

8m/s (Normal Mode, can set from 2~10m/s)

12m/s (Return Mode)

Max Flying Altitude:

 4000m

Max Flying Time: 

26mins

Satelite Positioning System:

 GPS+GLONASS

Hovering Accuracy: 

Vertical: ±0.5m, ±0.2m (when optical flow positioning and ultrasonic positioning works normally)

Horizontal: ±1.5m, ±0.3m (when optical flow positioning and ultrasonic positioning works normally)

Operating Frequency: 

2.4GHz

Flight Height: 

120m,maximum 800m (set on app)

Operating Temperature:

 0-40℃

Optical Flow System

Optical Flow System: 

yes

Operating Environment: 

surface with clear pattern and adequate light (lux>15, Normal indoor fluorescent lighting environment)

Vellocity Range: 

≤1.5 m/s at 6.6 ft (2 m) above ground

Altitude Range: 

0.5~6m

Gimbal

Gimbal: 

3-Axis Brushless Gimbal

Stablized Mode: 

Brushless motor mechanical stabilization

Controllable Rotation Range:

 -90°〜0°(Pitch), -90° to 15° (extended setting)

Stabilization System: 

3-axis(pitch:+30/-120°,roll:± 30°,course:±30°)

Jitter Amount: 

±0.01°

Camera

Sensor: 

Sonys Sensor CMOS

Image Size:

 3840*2160 (8MP)

Video Recording resolution: 

3840×2160 (4K) 15fps; 2716x1524(2.7k) 25fps

Max Bitrate: 

25Mbps

File System: 

FAT32(<=32GB) /exFAT(>32GB)

Image Format: 

JPEG

Video Format: 

MP4

Recommended SD Card:

 Micro SD™
Max capacity:128GB. UHS-I Speed Grade 3 rating required

Battery

Capacity: 

2100mah

Voltage: 

7.7V

Type: 

LiPo 2S

Energy: 

16.17 Wh

Battery Weight: 

About 80g

Charging Temperature: 

0-40℃

Maximum Charging power: 

16W

Charging Time: 

<2.5h(with 5V 2A adapter)

Input: 

5 V 2A(recommend)

Output: 

4.4V 1A×2

Rated Power: 

10 W

APP

App Name: 

C-Fly GO

Max Image Transmission Distance:

 3000m

Max Image Transmission: 

Max 720P, will automatically switch resolution according to environmental conditions

Aerial Mode:

Fading mode, surround mode, skyward mode, spiral mode, comett mode, asteroid mode, portrait mode, live broadcast, panorama mode, time-lapse photography, visual follow mode

Phone System Version: 

Android 6.0 or above,IOS 10.0 or above

Remote Controller

Operating Frequency: 

5.8GHz

Maximum Signal Effective Distance: 

3000m(FCC)

EIRP: 

<26 dBm,(FCC),  <20 dBm,(CE, SRRC, MIC)

Working Current: 

700mA

Mobile Phone Bracket: 

Thickness 6.5-8.5 mm, maximum length 80 mm

Battery Capacity:

 2600 mAh

Battery Voltage: 

3.7 V

Use Time

2.5h (different mobile phones will vary)

Battery Power

9.62Wh

Type: 

LiPo 18650

Operating Temperature: 

0-40℃

Charging Mode: 

USB

Maximum Charging Power: 

10W

Charging Time:

<2.5h(different mobile phones will be different)
Features:
- 3KM map transmission
- 4K HD real-time video transmission
- 26 Minutes endurance
- 3-Axis brushless motor
- Delay photography
- Up to 3000m control range
- Smart flight
- One key return
- Low battery return
- Runaway return
- 5 Strong wind resistance equipped
- Follow me
Package Included:
1 x RC Drone 
1 x 7.7V 2100mAh Battery(the quantity can be chosen)
1 x Remote Control 
4 x Propellers
1 x Charger
1 x USB Charging Cable
1 x Storage Bag
1 x Manual
✅Other Names for Drones
UAV
UAS
Unmanned Aerial Vehicle
Unmanned Aircraft System
Commercial Drones
Drone Photography