Regular price
$236.00 USD
Regular price
$262.00 USD
Sale price
$236.00 USD
Unit price
per
Sale
Sold out
Share
View full details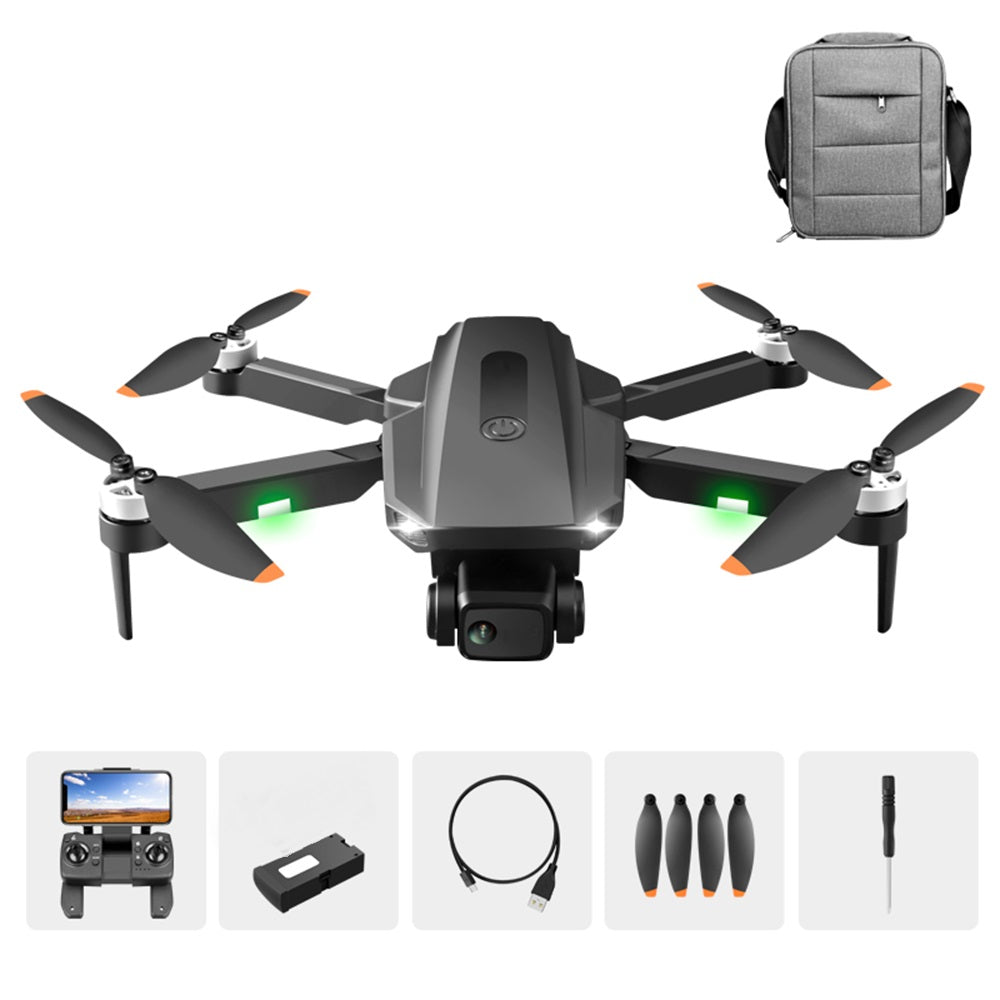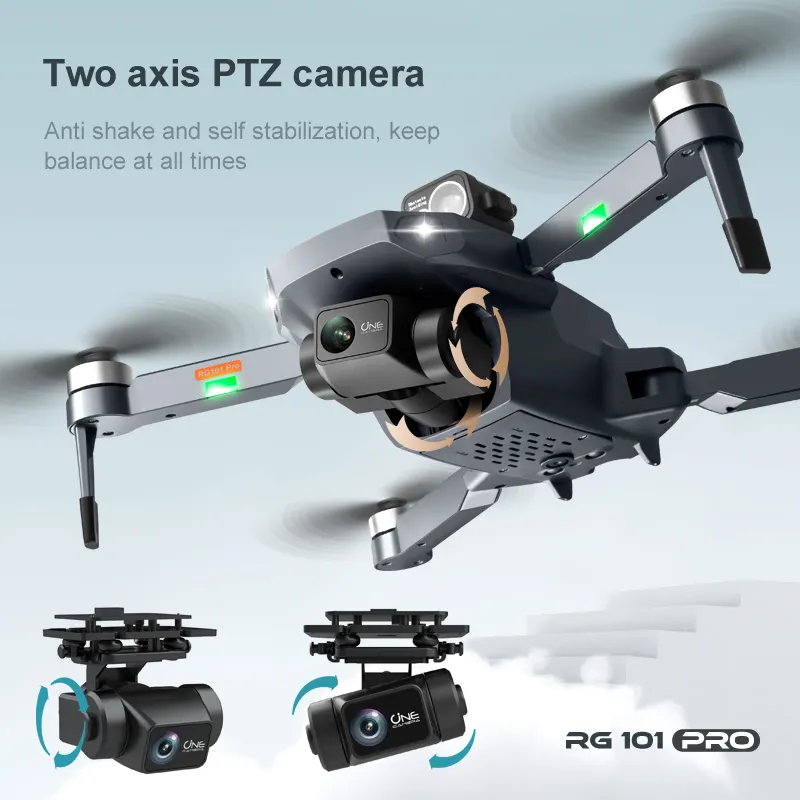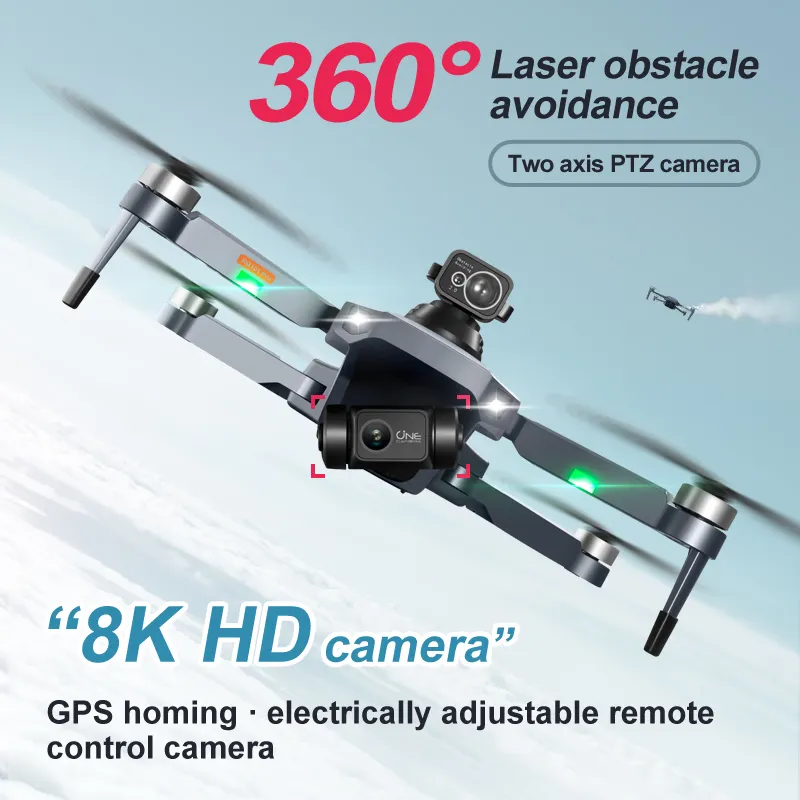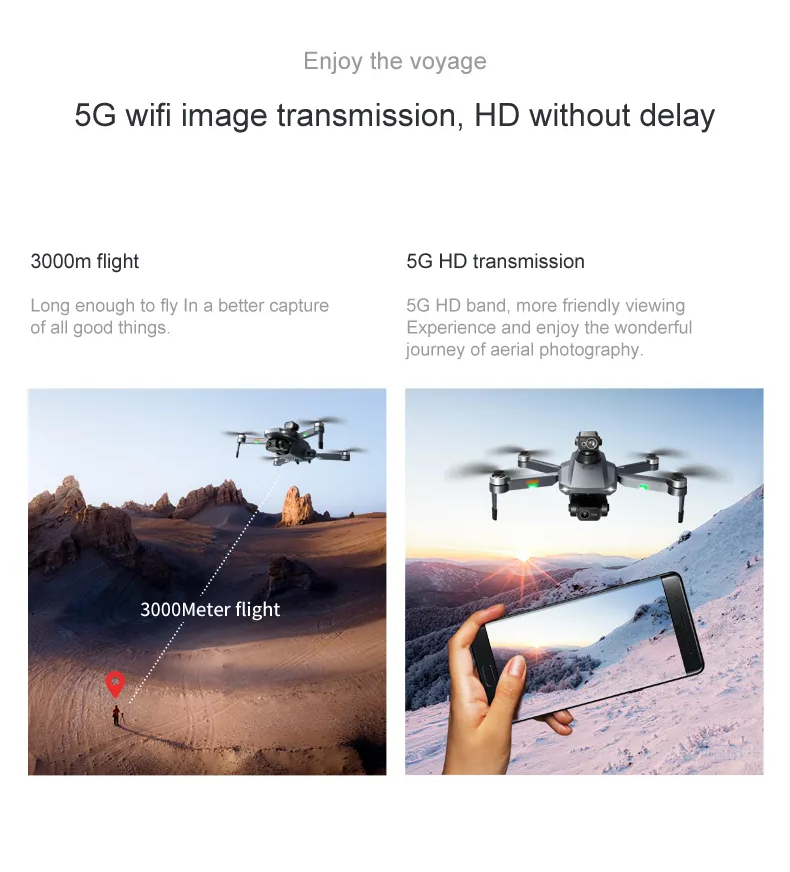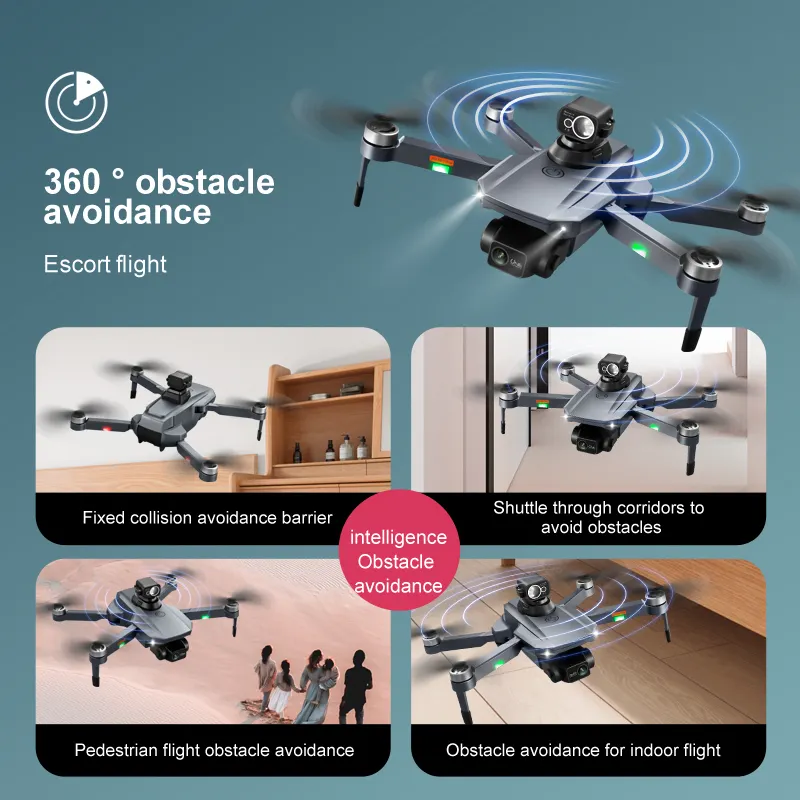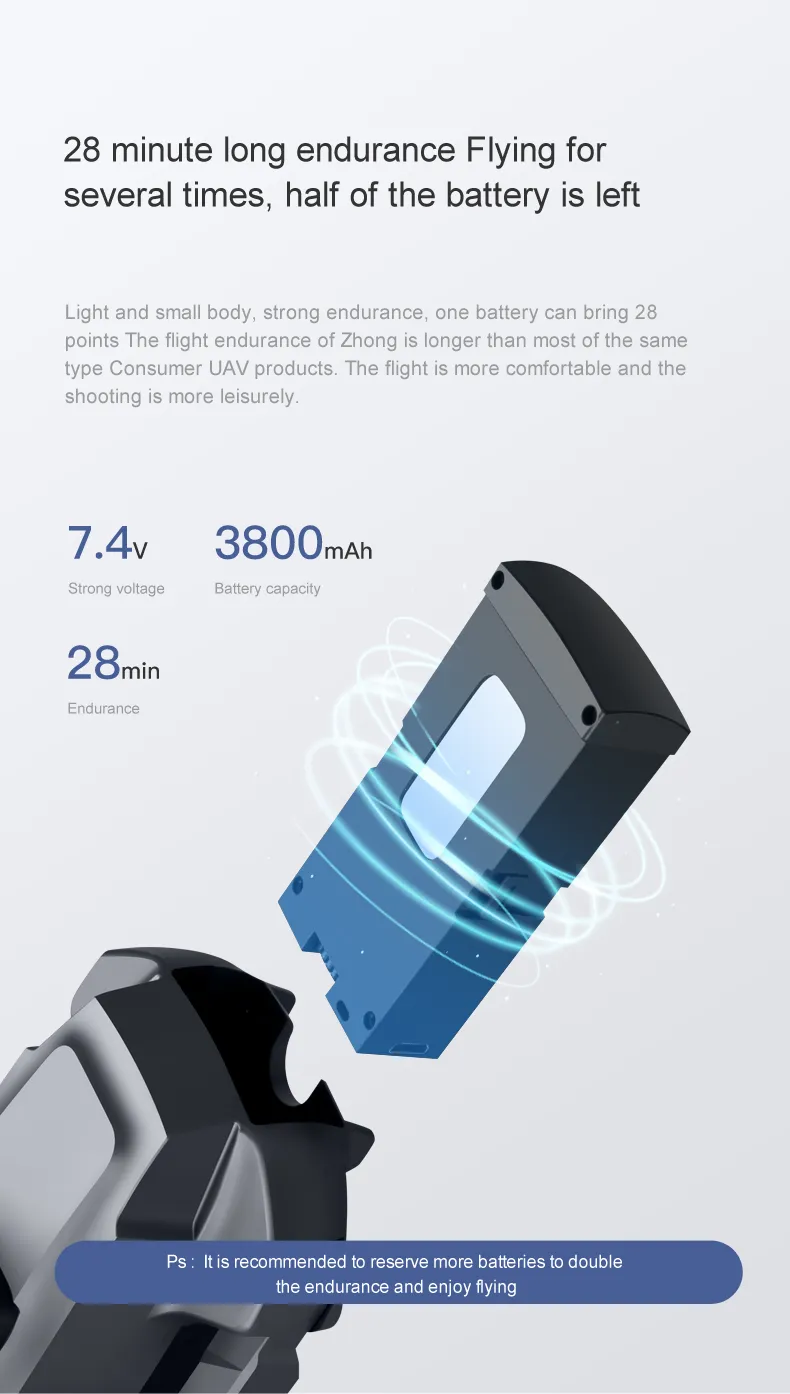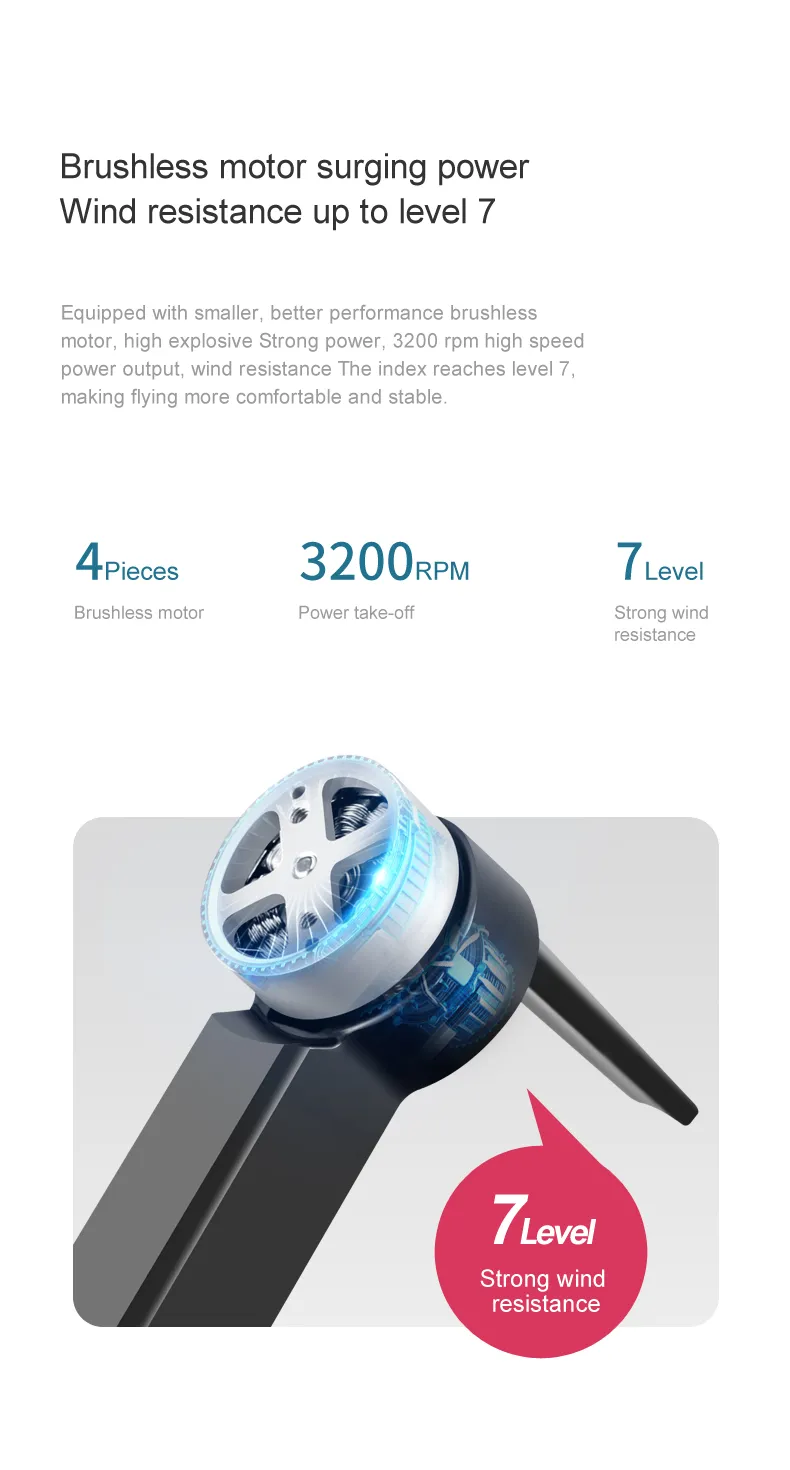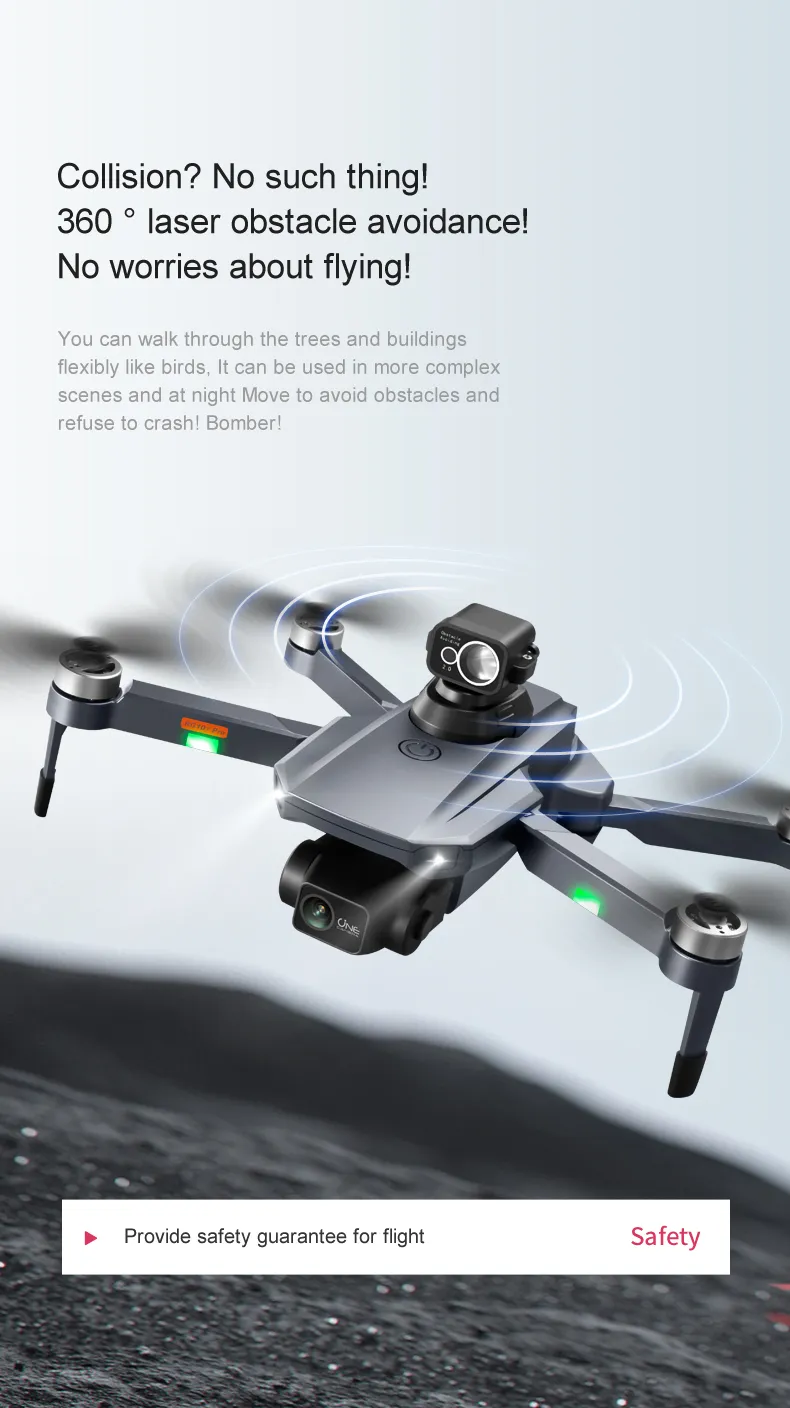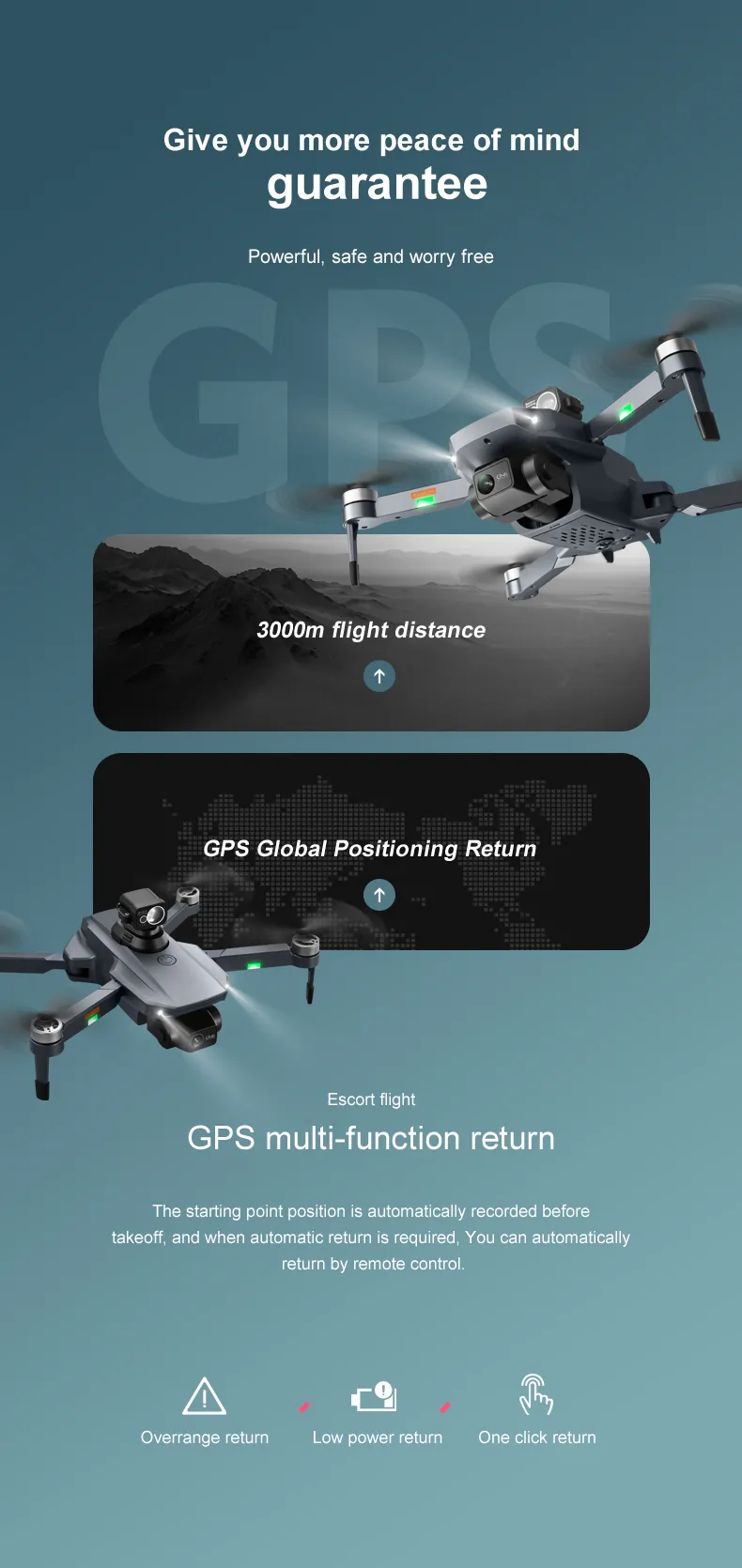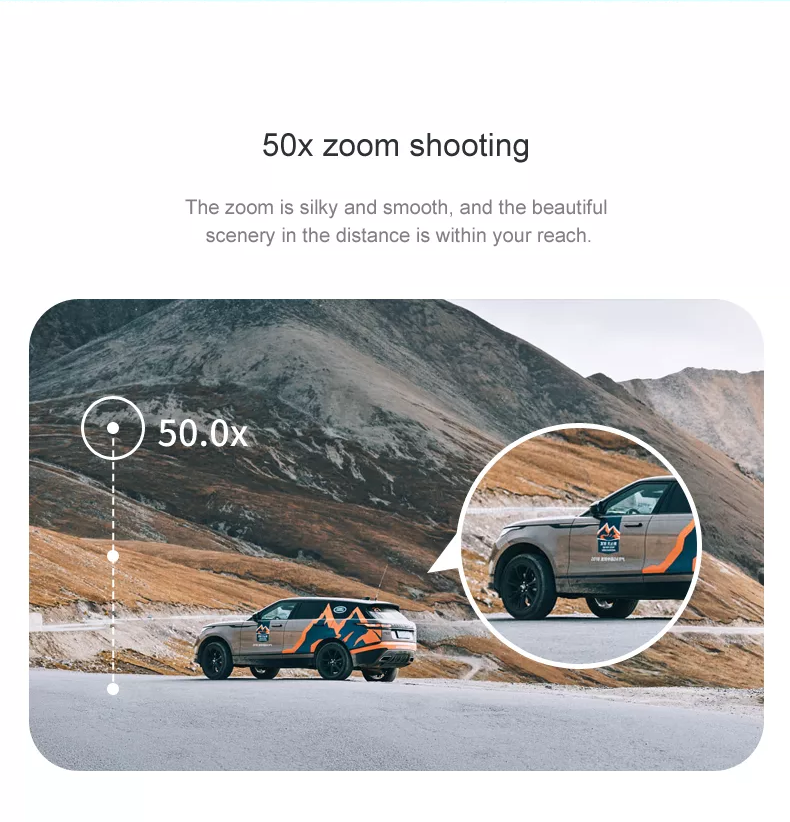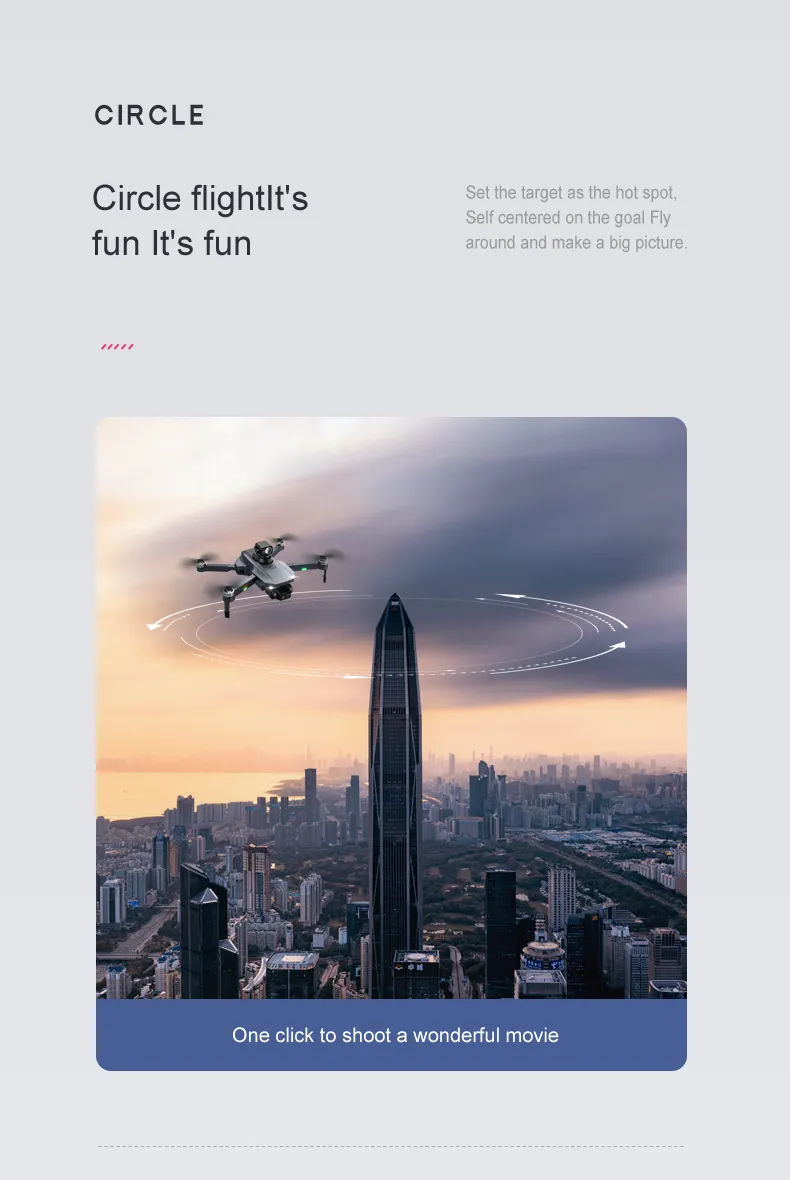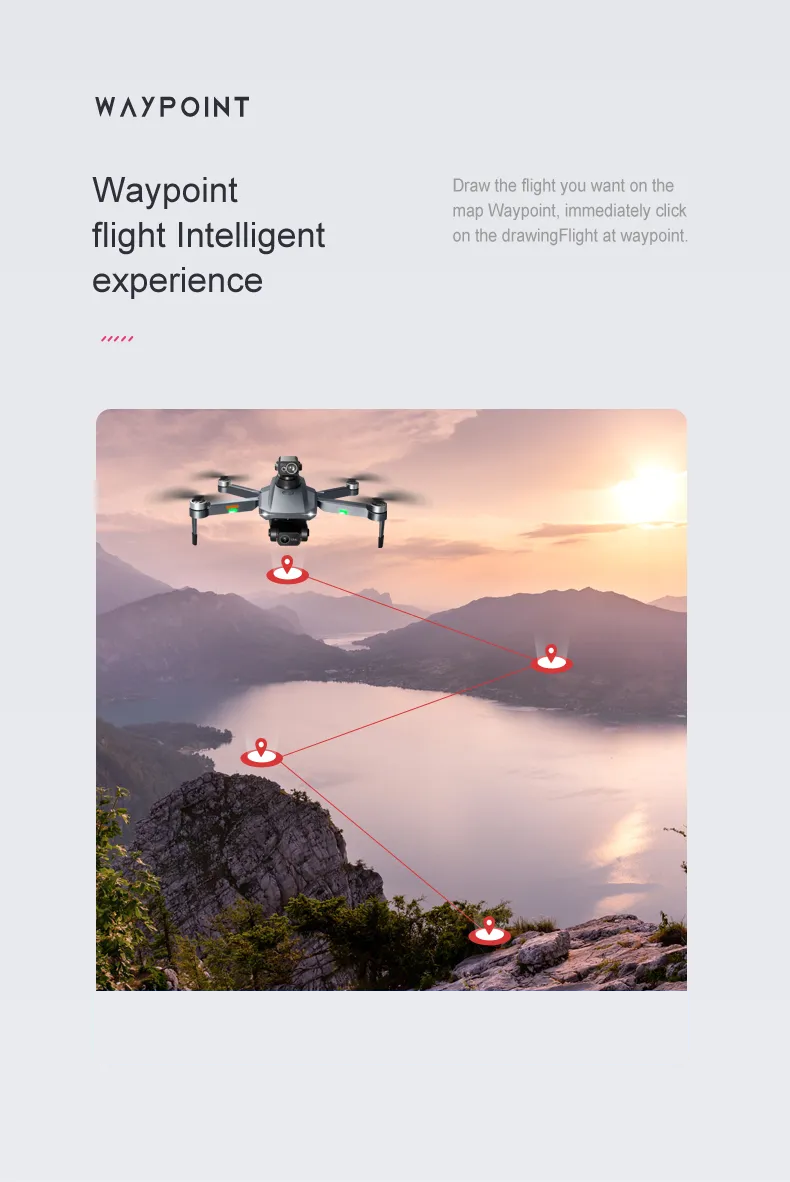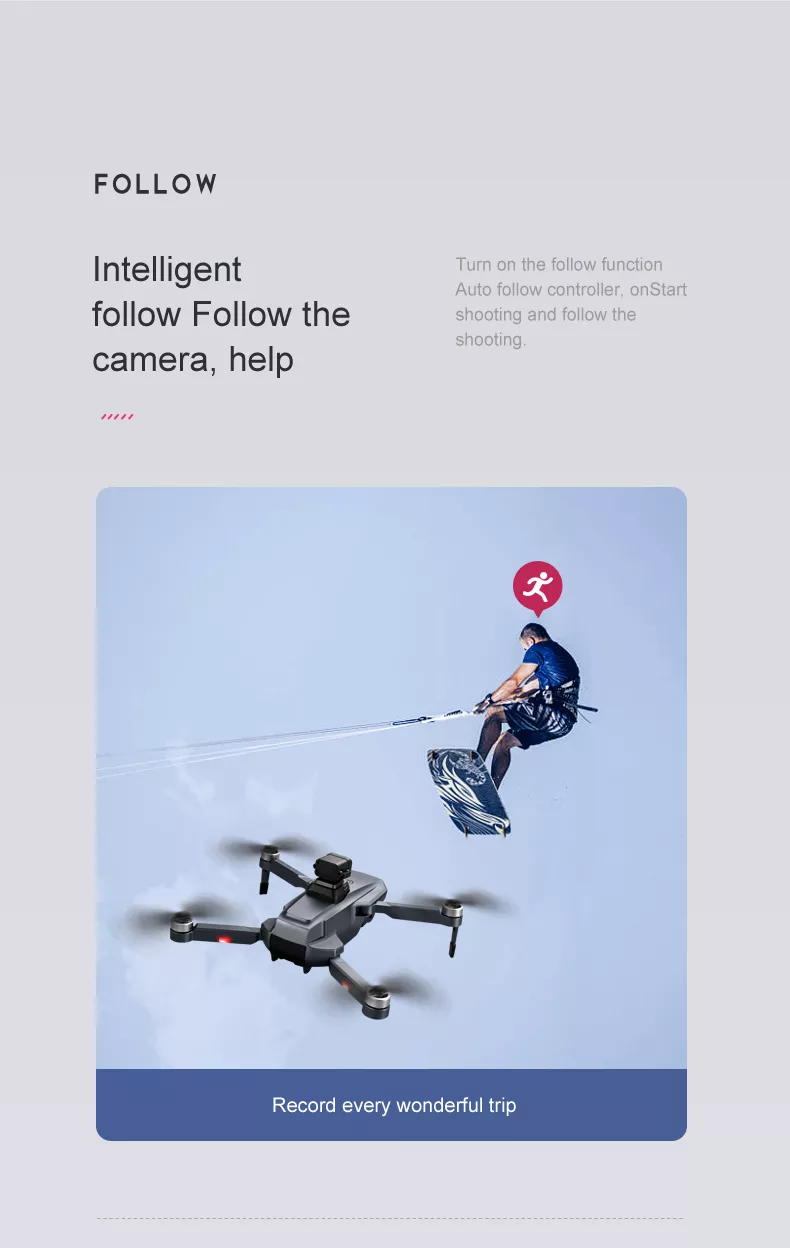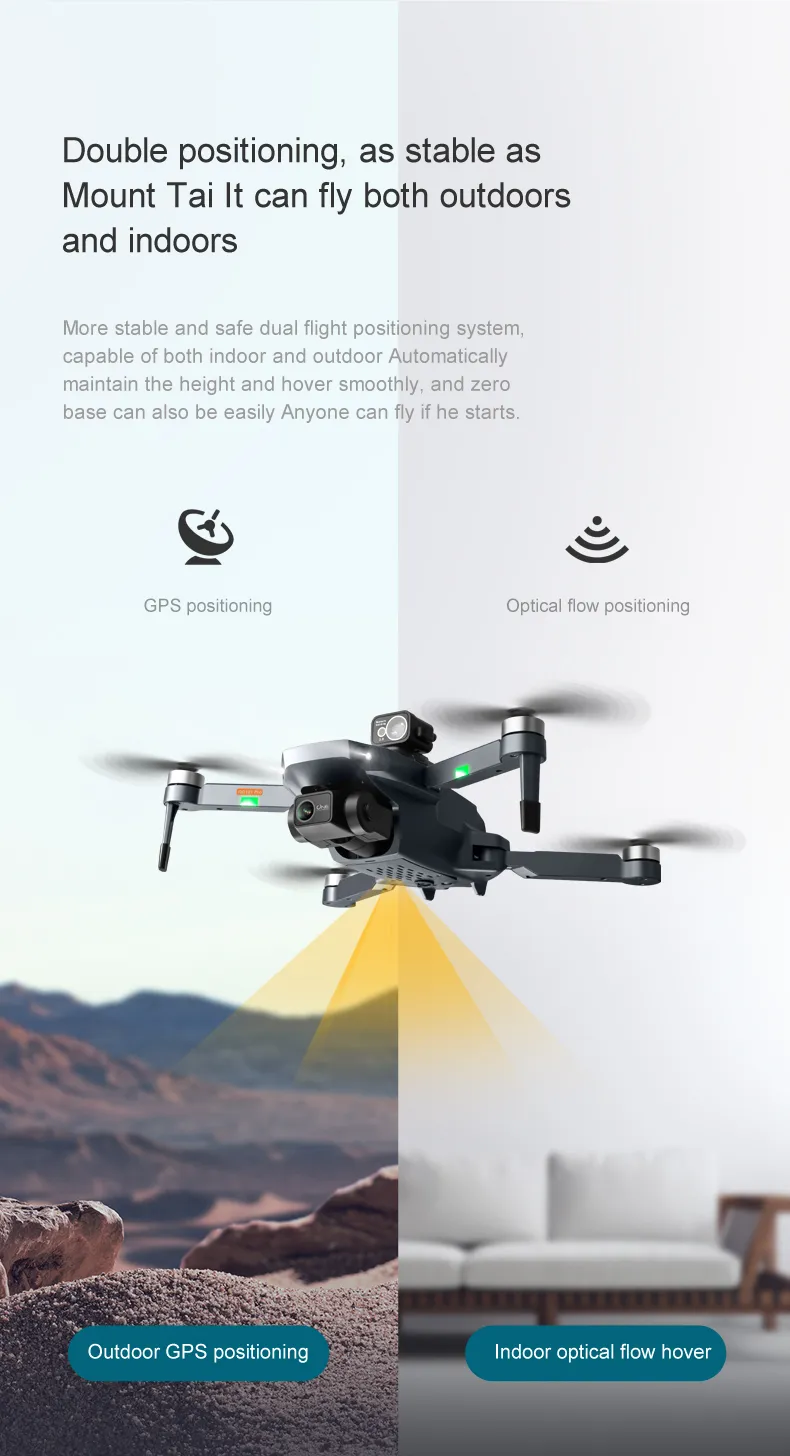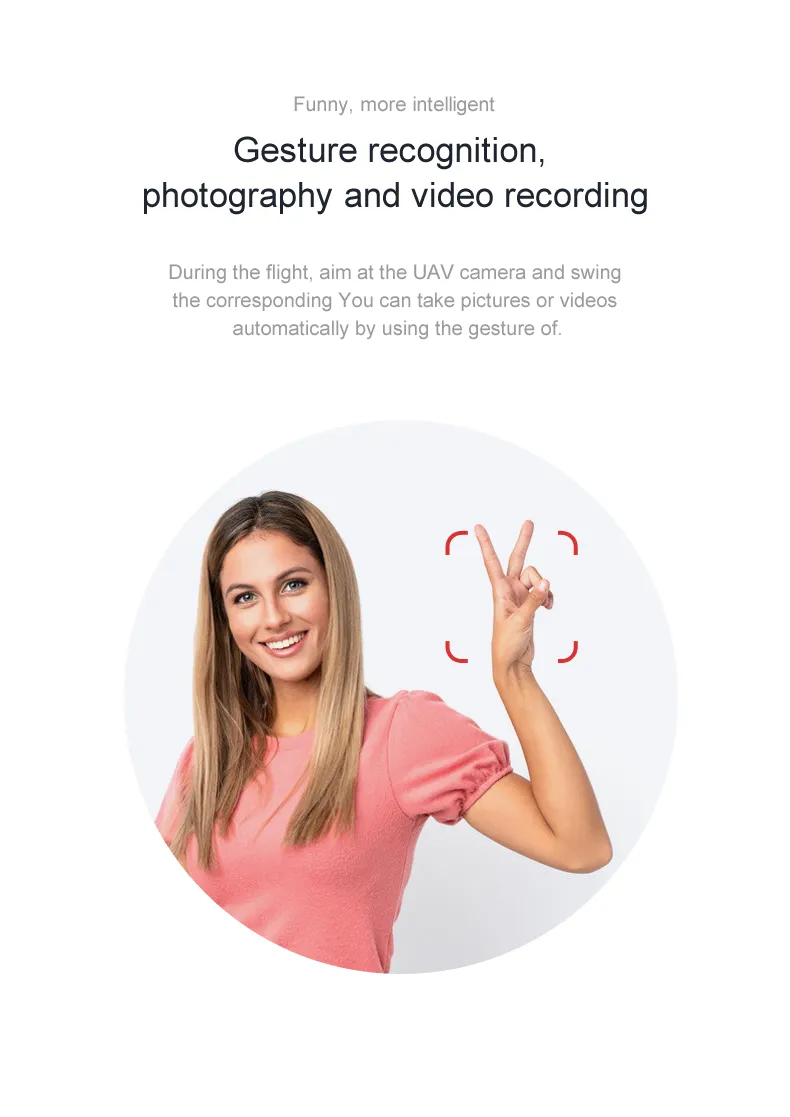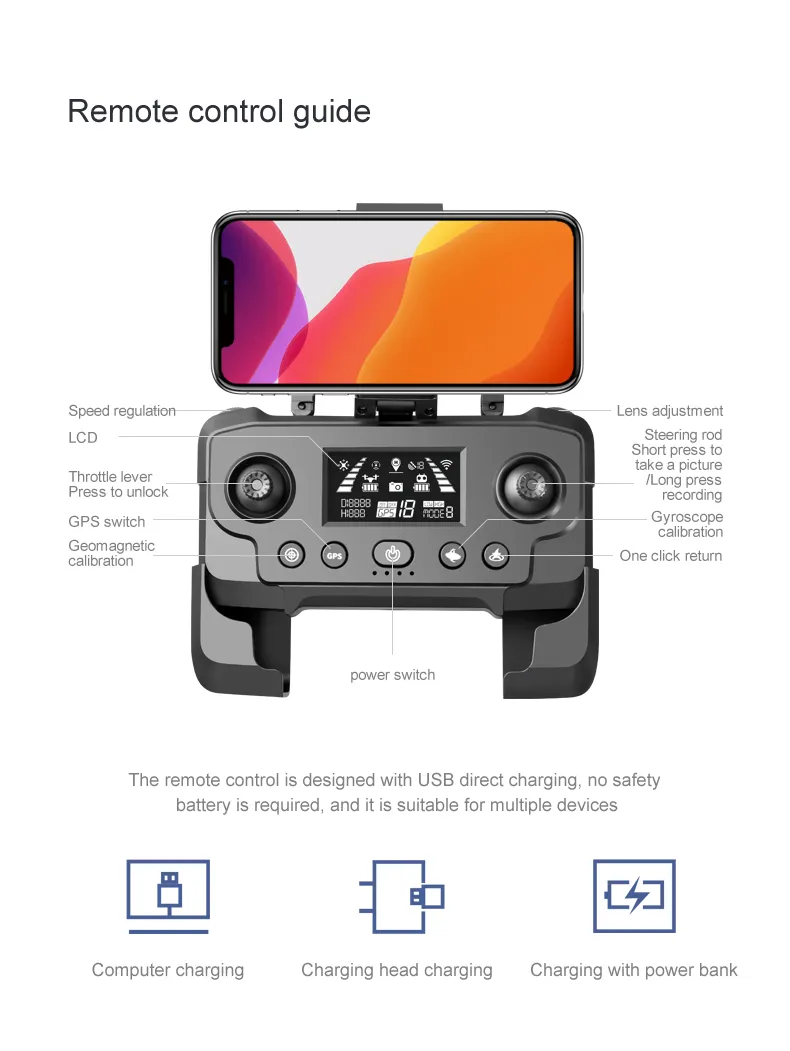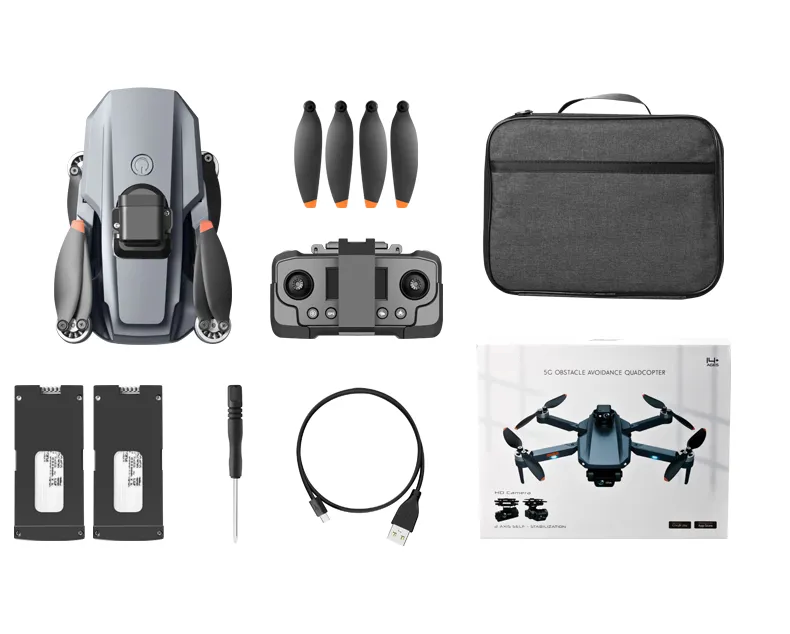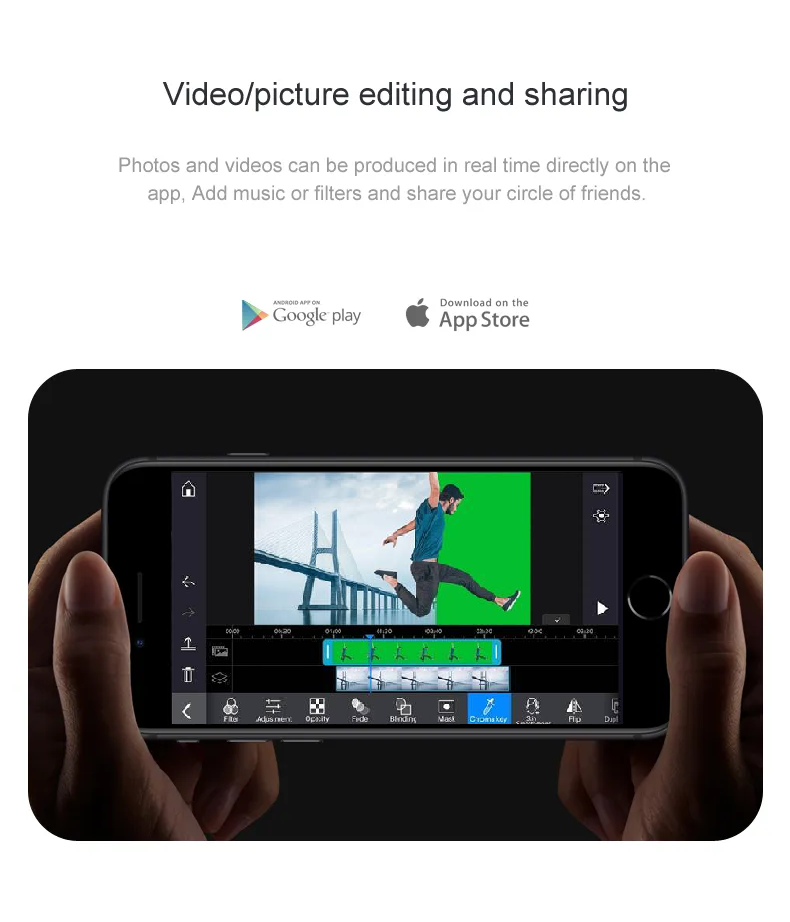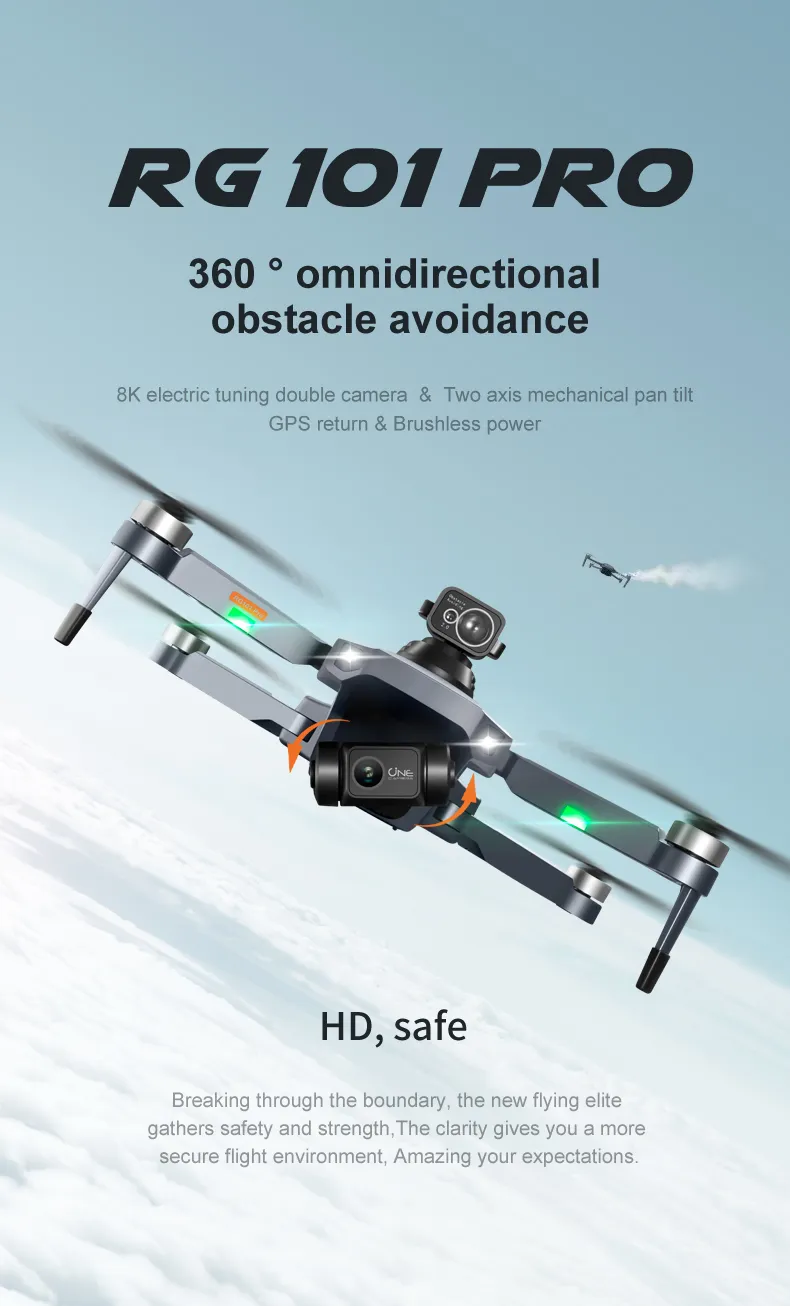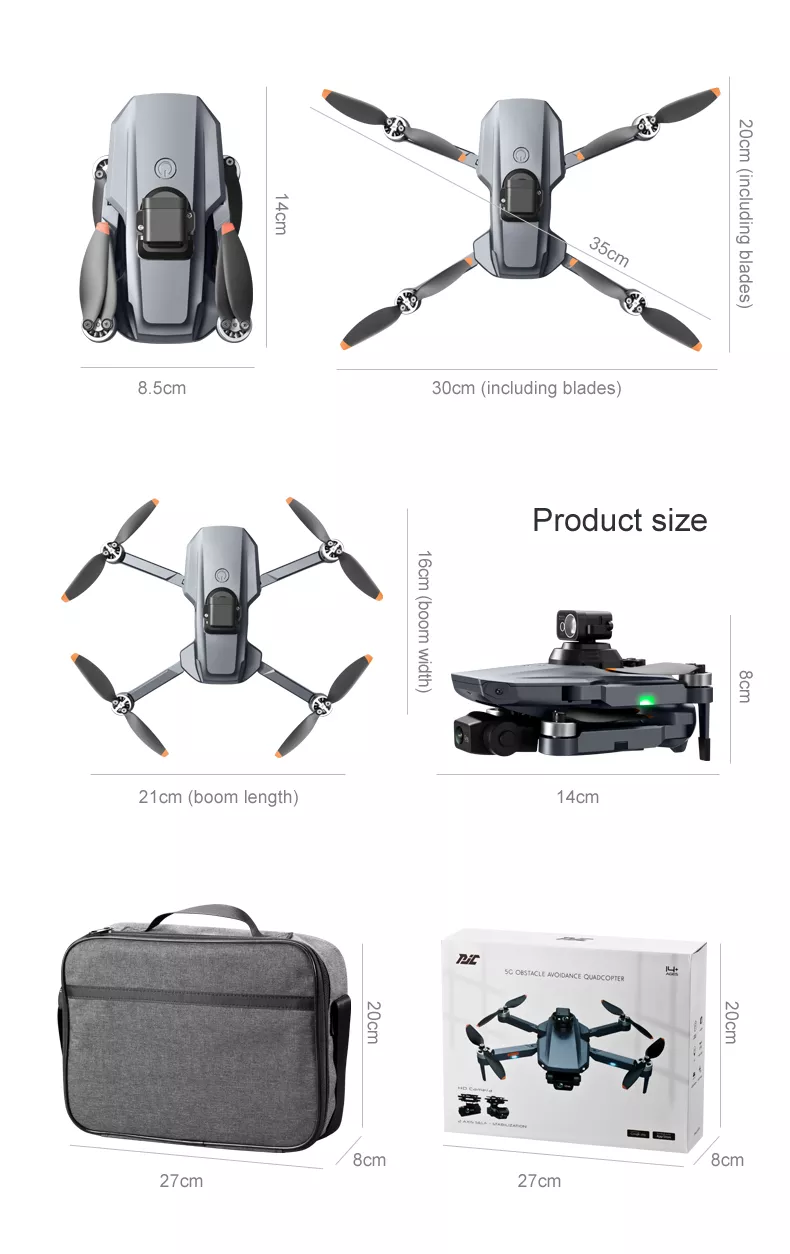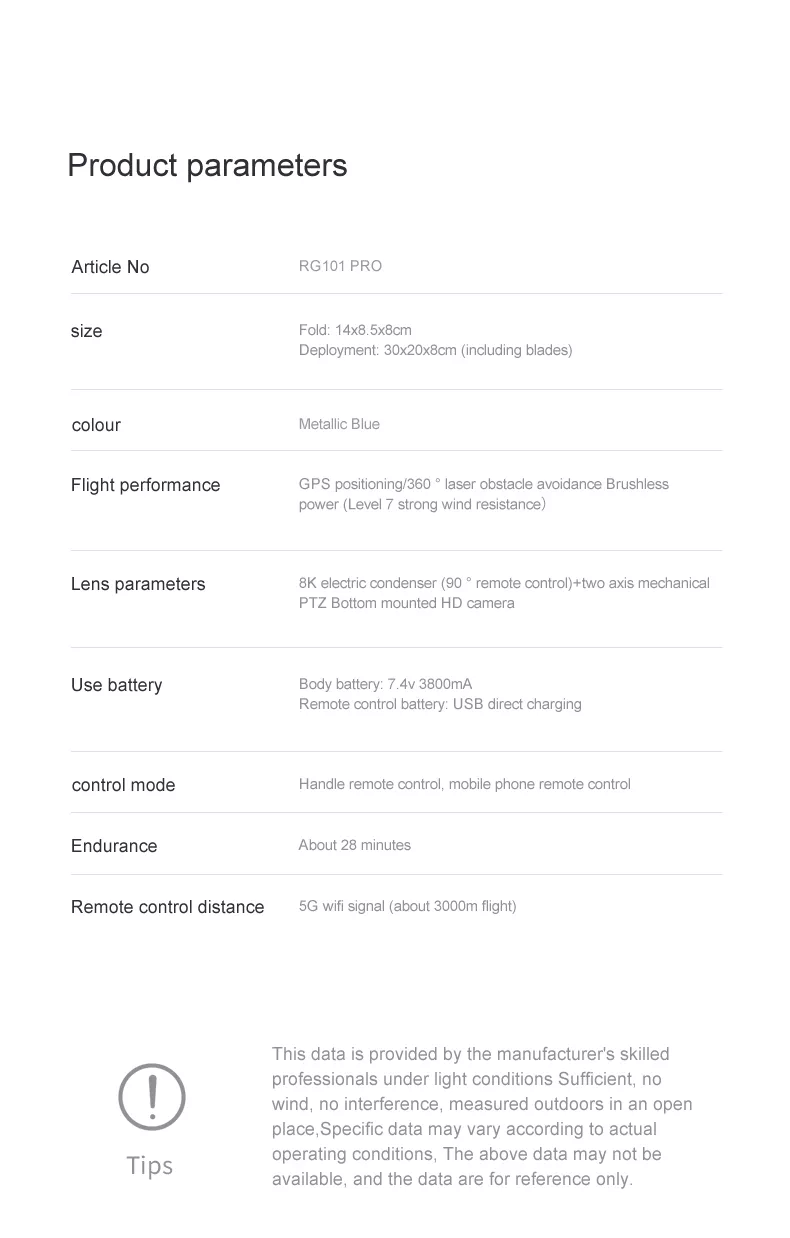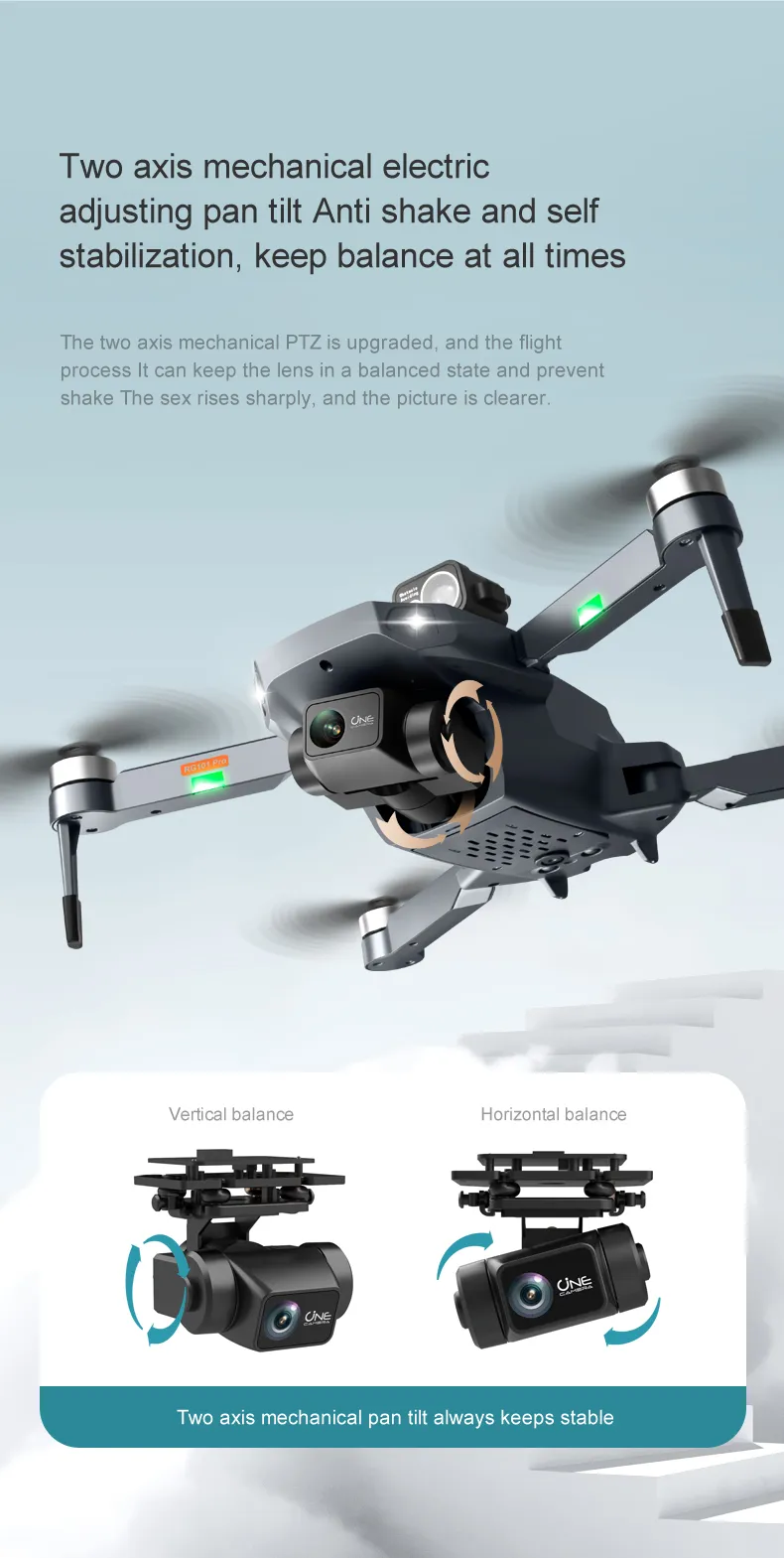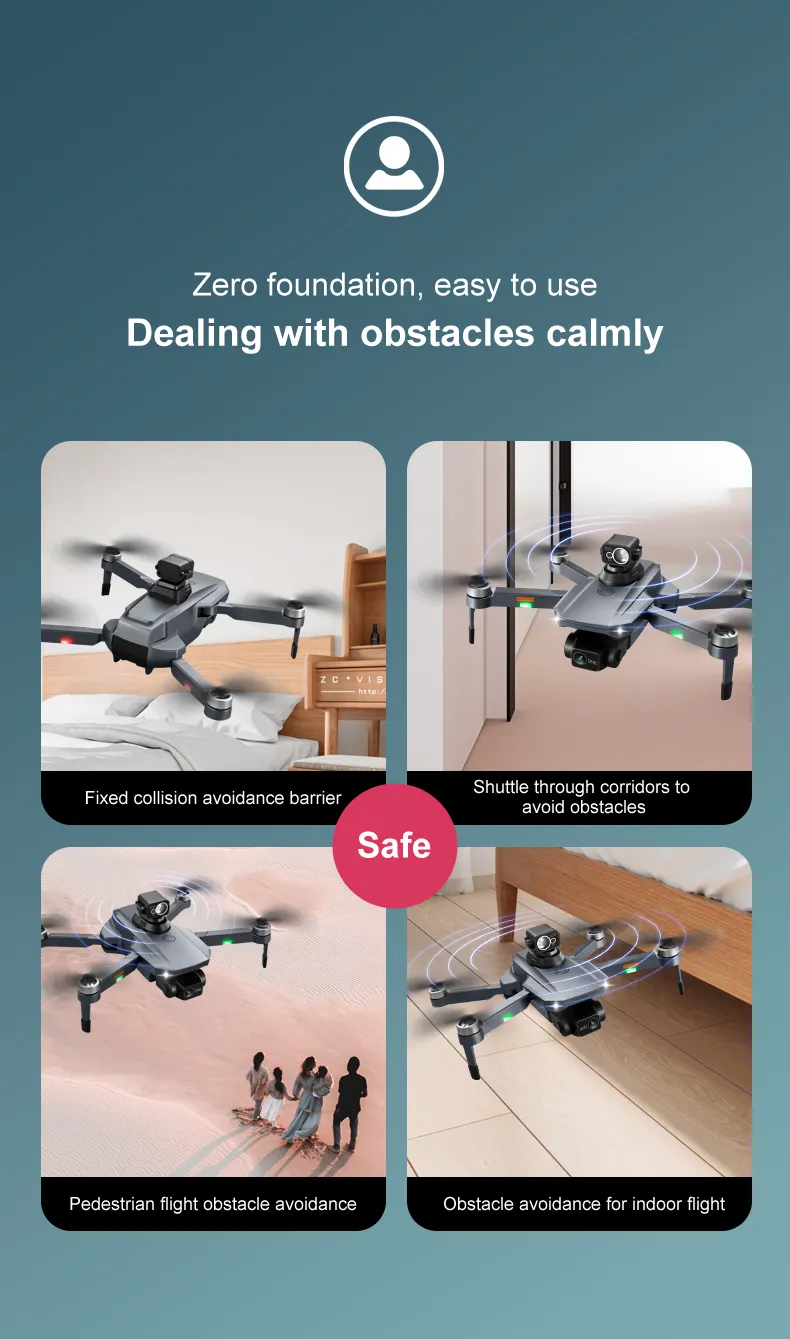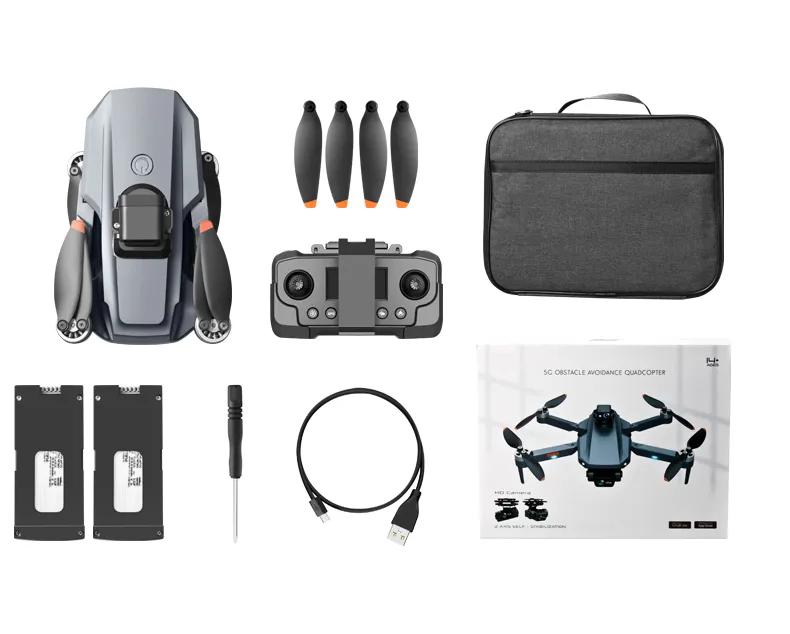 ✅Impeccable Design
The RG101 Pro Drone sounds like a great travel companion for anyone who enjoys capturing their favorite memories with stunning aerial photography. The 4K Camera and 2-Axis Mechanical Gimbal are impressive features that will undoubtedly take the video quality to the next level. The combination of a powerful camera and intelligent shooting modes will enable users to push their imagination to its limits and capture amazing footage effortlessly. The drone's compact and durable design makes it an ideal choice for travelers who want to capture their adventures from a unique perspective. Overall, the RG101 Pro Drone is a great option for anyone looking for an easy-to-use, high-quality drone for aerial photography.
✅Light Weight & Portable

RG101 Pro Drone has a lightweight design, weighing only 220 grams (or 245 grams with obstacle avoidance). This weight is advantageous for ease of portability and stability during flight, especially in strong winds. Additionally, as the weight is below the 250-gram threshold, it may be exempt from registration and licensing requirements in many countries. The included bag adds to the drone's convenience for transportation.
✅Strong Battery Life
That sounds like a great feature for the RG101 Pro Drone! The 7.4V 3800mAh lithium battery is a high-capacity battery that allows for a longer flight time of up to 28 minutes, which is impressive for a consumer drone. It's important to note that flight time can be affected by a number of factors such as wind, temperature, altitude, and flight patterns. So, it's a good idea to keep these factors in mind when flying the drone to maximize its battery life and get the most out of your flight experience. Additionally, it's recommended to have spare batteries on hand to extend your flight time and minimize downtime between flights.
✅4K Camera + 2-Axis Gimbal

RG101 Pro Drone has a 4K HD Camera that can shoot high quality videos and photos. 2-axisl gimbal greatly improves the stability of the aerial pictures, making the memories of every scene clear and smooth.
The 2 motors on the gimbal are responsible for the rotation of the front & back  and left & right directions, so that the camera can be kept stable at any time during flight, keeping the picture quality clearer and sharp.
A 4K camera in the sky delivers content guaranteed to impress. RG101 Pro ensures stunning image quality that is consistently smooth no matter how adventurous your piloting gets. Upgraded front and bottom High-Definition cameras, freely switch aerial viewing angles. Excellent optical performance can record every unforgettable moment in life.
Never miss a moment with 90 degree remote control adjustment and 120 degree ultra wide angle. Supports flat screen photography and overhead photography. 
Video Resolution: 3840 x 2160
Picture Resolution: 7680 x 4320
Video Frames/Sec: 27 FPS
✅Camera Zoom

That's an impressive feature of the RG101 Pro Drone! The ability to zoom in on your subject while in flight can be incredibly useful for capturing detailed photos and videos from a distance. It can also help you get shots that would be difficult or impossible to capture with a standard camera or drone. However, it's important to keep in mind that the quality of the zoomed-in footage will depend on the quality of the camera on the drone, as well as factors like lighting and stability. So, while the zoom feature can be a useful tool for capturing footage, it's still important to consider the overall conditions of the flight and aim to capture footage in the best possible conditions.
✅Laser Obstacle Avoidance

RG101 Pro is a drone equipped with 360-degree laser obstacle avoidance technology, which allows it to detect and avoid obstacles automatically. This can be especially useful for flying indoors, where there may be more obstacles to avoid, such as furniture or walls. The drone can even shuttle through corridors to avoid obstacles and has a fixed collision avoidance barrier to prevent scratches or collisions. Additionally, the pedestrian avoidance feature can be very useful when flying the drone in crowded areas. Overall, this technology can help provide a worry-free flight experience, allowing for more freedom and flexibility when flying indoors.
✅Brushless Motor
RG101 Pro has a powerful motor that is designed to provide strong wind resistance, which can make it easier to fly in challenging weather conditions. Despite its power, it is also very quiet, which can make for a more pleasant flight experience. Additionally, the drone is built to be durable, with a low risk of breakdowns and a low likelihood of needing motor replacements. This can help ensure that your flights are enjoyable and stress-free, without the need for frequent repairs or maintenance.
✅Optical Flow Positioning
The optical flow positioning system on the RG101 Pro 4K Drone is a technology that uses optical sensors to detect the ground below the drone, allowing it to maintain a stable position during flight. This is particularly useful for indoor flights where GPS signals may be weak or non-existent. By combining this with GPS positioning, the drone can provide a more stable and safe flight experience, both indoors and outdoors. The optical flow system helps the drone maintain a stable hover and hold its position more accurately, even in the absence of GPS signals, which can help prevent the drone from drifting or crashing. Overall, the dual flight positioning system on the RG101 Pro 4K Drone can provide a more stable and safe flight experience, whether you're flying indoors or outdoors.
✅Waypoint
The RG101 Pro Drone supports trajectory flight, which allows you to draw a flight path on a map, and the drone will follow that path automatically. This can be done using a feature called Waypoint mode, which allows you to set a series of waypoints on a map and define the altitude, speed, and direction of the drone at each point. Once you have set the waypoints, you can activate the Waypoint mode, and the drone will fly along the designated path, following each point precisely. This feature is particularly useful for aerial photography or mapping tasks, where you need to fly a specific route to capture images or data. With the RG101 Pro Drone, you can easily plan and execute complex flight paths, without the need for manual control, allowing you to focus on the task at hand.
✅Intelligent Follow
The Intelligent Follow functionality on the RG101 Pro Drone is a feature that allows the drone to automatically track and follow a subject. Once you turn on this feature, the drone will use its advanced sensors to detect and track your movements, keeping you in the frame and in focus. This can be especially useful for recording videos, as you can focus on your activity without worrying about operating the drone. The Intelligent Follow mode can be activated through the drone's control interface, and once it's on, you can start shooting your video. The drone will automatically follow your movements, providing a unique and dynamic perspective on your activity. With this feature, you can capture exciting and engaging footage without needing to be an experienced drone pilot.
✅Easy To Get Started
The RG101 Pro Drone is designed to provide a simple and intuitive operating experience, making it easy to fly for beginners and experienced pilots alike. The drone comes with a range of features that make it easy to control, including intuitive controls, automatic takeoff and landing, and a range of flight modes. Additionally, the drone comes with a range of flight teaching features, such as tutorials and instructional videos, which can help you master flying skills more quickly. With these features, you can learn how to fly the drone more efficiently and effectively, reducing the learning curve and allowing you to get the most out of your flying experience. Overall, the RG101 Pro Drone is designed to provide an easy and enjoyable flying experience, with features that are accessible and helpful for pilots of all skill levels.
✅Image Transmission Distance
The RG101 Pro Drone is equipped with an advanced remote control system that uses 5G image transmission technology. This technology allows for a smooth and stable image transmission up to 3000 meters, providing a clear and uninterrupted view of the drone's flight. With 5G HD transmission, you can enjoy a more stable and friendly viewing experience, with reduced latency and a higher quality image. This can be especially important for aerial photography or videography, where a clear and stable image is essential. With the upgraded home remote control system on the RG101 Pro Drone, you can enjoy the wonderful journey of aerial photography without any delay or interruption, allowing you to capture stunning images and videos from a unique and exciting perspective.
 ✅GPS Return
The RG101 Pro Drone comes with a GPS satellite positioning system that ensures safe and accurate flights. Here is how the GPS Return functionality works:
One Key Return: With the One Key Return feature, you can easily bring the drone back to its takeoff point by pressing a button on the remote controller. The drone will use its GPS positioning system to navigate back to its original location.
Runaway Return: In case of a signal loss or other communication issues between the drone and the remote controller, the Runaway Return feature will automatically activate. The drone will fly back to its takeoff point using its GPS system, ensuring a safe and controlled landing.
Low Battery Return: When the drone's battery level drops below a certain threshold, the Low Battery Return feature will kick in. The drone will automatically fly back to its takeoff point to prevent it from running out of power and crashing.
Return Flight: With the Return Flight feature, you can program a specific flight path for the drone using waypoints on a map. The drone will follow this path and return to its takeoff point automatically, using its GPS system to navigate.
Overall, the GPS Return functionality on the RG101 Pro Drone ensures safe and stress-free flights, even in challenging environments or unexpected situations.
✅Circle Around (Point of Interest)
The RG101 drone has a feature called "Point of Interest" (POI) which allows you to set a target as the center of the drone's orbit. This is a great way to capture footage of a specific object or area while the drone remains stationary and circulates around it. It's commonly used in videography and cinematography to create dynamic and interesting shots.
✅Gesture Recognition
The RG101 drone does have gesture recognition capabilities that allow you to control the drone's camera by making specific hand gestures. You can use gestures to take photos or start/stop video recording during flight. This feature can be especially useful for capturing aerial selfies or footage of yourself while engaging in action sports, for example. So, you are correct that the RG101 drone supports gesture recognition.
✅Brushless Motor
The RG101 drone is equipped with smaller, more efficient brushless motors that provide strong power and high speed output of up to 3200 rpm. Brushless motors are more efficient and durable than traditional brushed motors and provide a smoother and more stable flight experience. With a wind resistance index of level 7, the RG101 can handle moderately windy conditions and maintain its stability during flight, making it more comfortable to fly and allowing you to capture better quality footage.
✅Video/Picture Editing

RG101 Pro Drone has the capability to produce photos and videos in real-time directly on the app, as well as add music or filters to the footage. This can be a convenient feature for those who want to quickly edit and share their footage without having to transfer it to another device or application. Once you have edited your photos and videos, you can share them with your friends and family through social media or other platforms.
✅Features:
✅Summary

Description:

Channel: 4 channels
Drone Flight range: about 3000 meters
Charging time: 2hours or so
Drone Flight time: 28minutes or so
Transmission method: FPV
Photo recording mode: remote control + APP control
Remote battery: USB direct charging
Aircraft rechargeable battery: 7.4V 3000mAh lithium battery
Drone Unfolded: 21x16x8cm
Drone Folded: 14x8.5x8cm
Body weight: under 250g
Features:

Intelligent 360° obstacle avoidance
GPS one key to return to the take-off point, return home with low power, return home without signal
GPS intelligent follow; Image follow: identify the subject and automatically follow the flight
Gesture shooting recognition: within 1-3m from the aircraft, face the camera to make a photo gesture/camera gesture
Multi-point flight route planning: the aircraft will fly autonomously according to the pre-set route, and the player will focus on shooting
Fixed-point surround: find the center point of the surround, and then use the joystick to move the desired orbiting radius
Aircraft retrieval function: Click the GPS signal icon 3 times to open the map interface, the map displays the last distance, latitude and longitude of the aircraft
Pictures, music and video sharing can be added: single or multiple selection to share photos, videos can only be shared individually at a time
4K/6k/4k adjustable camera
7.4V plug-in smart lithium battery
Product include:

1 x Aircraft
1 x Remote Control
1 x Aircraft Battery
1 x Spare Propeller
1 x Usb Charging Cable
1 x Screwdriver
1 x Manual
Precautions for use:

GPS needs to be turned off indoors
GPS needs to be turned on when outdoors
Drone, Drones for Photography, Drone with Camera, Adult Drones, UAV, UAS, Drone with 2-axis Gimbal, Drone with HD Camera, Professional Drone